Ravilious, Bawden, Power and Nash Provide Gorgeous Things Online
2008-07-10


July 10, 2008, Press Dispensary.
Rare and exclusive limited edition artwork and prints are the province of online gallery Gorgeous Things Ltd (
http://www.gorgeousthingsltd.com
) which this week launches its new collection, 'Ravilious, Bawden, Power and Nash'. Featuring the work of the renowned Eric Ravilious and the extraordinarily talented Edward Bawden, Cyril Power and Paul Nash, this is the first time these iconic twentieth century British artists and works have been brought together, not only for an exclusive online exhibition but for purchase as prints.
Within the Gorgeous Things Ltd presentation – which represents more than 900 artworks and prints, from the Pink Floyd album covers of Storm Thorgerson to the abstracts of Sir Terry Frost - the Ravilious, Bawden, Power and Nash collection stands out as a strong testament to British art and illustration of the 1930s and 1940s.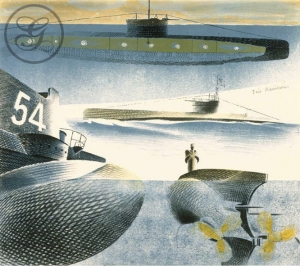 As well as designing graphics for London Transport and ceramics for Wedgwood, Eric Ravilious was one of Britain's most popular artists of the 1930s; his distinctive watercolours and lithographs are nowadays seen as deeply evocative of his era. Ravilious went on to become an official war artist, painting memorable pictures of ships, aircraft and coastal defences, and was one of the few official war artists to die on active service.
Edward Bawden CBE, a contemporary and close friend of Ravilious, spent the 1920s as an illustrator and printmaker – from when he remains the acknowledged master of the linocut - before his official war artist career saw him moving onto watercolours. His work can be seen in many major galleries and 23 paintings are held in the Tate collection.
A contemporary of Ravilious and Bawden, and founder of the Grosvenor School of Modern Art, Cyril Edward Power began his working life as an architect before turning to the lino cutting that made his name as one of the great British printmakers of the inter-war years. Of particular note was a series of prints commissioned by the London Tourist Board on the theme 'sporting venues reached by the Underground'. Power went on to paint in oils, producing 92 paintings in the last year of his life, aged 79. His works are held in a number of permanent collections including The British Museum (London), the London Transport Museum and The Museum of Modern Art in New York
It was Paul Nash who taught and encouraged Ravilious and Bawden at the Royal College of Art in the early 1920s. Like both of them, he produced many of the iconic commercial illustrations of the 1930s before going on to become an official war artist. This period led to perhaps his greatest work, often retrospective and symbolic representations of landscapes from the war and around Britain. The Gorgeous Things Ltd collection includes one of his works, the 1945 'Landscape Near Hadleigh'.
Gorgeous Things Ltd is currently awaiting new images from Ravilious and – of great significance – Bloomsbury artist Vanessa Bell, which will also be available from its high street gallery in Lewes, East Sussex.
Prints can be bought and paid for online at prices between £135 and £220. Subject to availability, prints are despatched within two working days.

- ends -
Notes for editors
Gorgeous Things Ltd is an online gallery selling rare and exclusive limited edition artwork and prints. Its roots are in picture framing, with fifteen years spent working alongside artists and collectors to provide the best possible presentation for their artwork.
The company's expertise is in advising on all aspects of the field, from the practicalities of hanging pictures on walls to investing in the right artist at the right time, drawn from experience gained in selling prints and originals from its Lewes, East Sussex gallery.
Gorgeous Things Ltd is run by three people: consultant Peta King, framer Stephen King and manager Joshua Stenning.
Consultations and framing are available on request.

For further information, please contact:
Peta King, director & consultant
Gorgeous Things Ltd / Kings Framers
Tel: 01273 481 020
Email:
Site: www.gorgeousthingsltd.com