Jonathon Ross Leads Celebrities in City Fundraiser for Lowe Syndrome Trust
2010-09-17


September 17, 2010, Press Dispensary.
Celebrities including a bearded Jonathan Ross, Penny Lancaster Stewart, Tony Hadley, Melanie Blatt and Christopher Biggins this week became financial brokers for the day, to raise tens of thousands of pounds for the UK-based charity, the Lowe Syndrome Trust (LST). The Trust funds research into the rare, incurable childhood disease Lowe Syndrome. And on the back of such recent fundraising, the Trust's founder and chair Lorraine Thomas announces today that the Trust will shortly be awarding two new grants worth £200,000 to researchers investigating the disease. This is in addition to the £160,000 grants awarded in the spring.
"
We are celebrating our tenth year anniversary this year and ... it will help us fund more research into the disease.
"
Jonathan Ross
The Lowe Syndrome Trust celebrates its tenth anniversary this year, having been formed by Lorraine Thomas in March 2000, following the diagnosis that her own son, Oscar, was affected by Lowe Syndrome. When diagnosed, he was given only a few years to live; this year he turned 16.

The Trust's tenth anniversary is being marked by a year-long mission to raise £1m in donations – and so it was that, this Monday, September 11, celebrities on behalf of the Trust spent the day at BGC Partners, Inc. (Nasdaq: BGCP), one of the world's leading inter-dealer brokers, helping brokers to conduct transactions with BGC's clients. Worldwide, in this way, BGC raised more than $10m for various charities by donating its day's global revenues in commemoration of those lost in the World Trade Centre attacks. Celebrities in London, New York, Paris, Singapore and Sydney helped a wide range of charities in addition to the Lowe Syndrome Trust.
Jonathon Ross, who is also a trustee of the Lowe Syndrome charity, said: "We are celebrating our tenth year anniversary this year and so I'm delighted that BGC have included The LST in their charity day. It will help us fund more research into the disease. "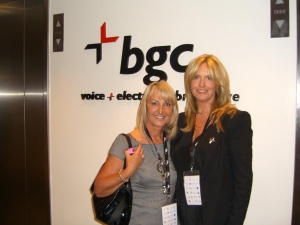 Penny Lancaster, wife of Rod Stewart and a committed Trust supporter, said: "The buzz on the trading floor was amazing. I was honoured to be involved in the BGC Charity Day to help raise money for my chosen charity, the Lowe Syndrome Trust. I even got to close a deal of turnover £25 million, which was an incredibly exciting moment."
She continued: "It's fantastic to think everyone at BGC Partners has given up their time for free and to be generous enough to give the day's revenues to charity."
Trust chair Lorraine Thomas said: "We're so grateful to BGC Partners for making the Lowe Syndrome Trust one of its September 11 charities, and I have huge thanks for Jonathan, Penny, Tony, Melanie, Christopher and everyone who came along to support us. It was a fantastic day which enables us to move genuinely closer to finding ways of alleviating and maybe eventually curing Lowe Syndrome."
The Trust's tenth anniversary activities continue through the autumn and winter with launches, a film premiere and a 'Grand Finale' on New Year's Eve. Lorraine Thomas has also announced today that in December the Trust will be holding a symposium to present Lowe Syndrome research results.
- ends -
Notes for editors

About the Lowe Syndrome Trust
Lowe Syndrome Trust was set up in June 2000 by Lorraine Thomas after her son, Oscar, was diagnosed with the condition in 1999. No government support or UK research into the syndrome was available at that time and, for the last ten years, Lorraine has devoted her life to raising money for the charity, which now supports many families affected by the disease and has become the main source of grants to fund research across the UK and USA. It was recently accepted by the NHS as an NIHR Partner Organisation, boosting its ability to attract the highest quality research studies.
Supporters of the charity include trustee Jonathan Ross and patrons Penny Lancaster Stewart (wife of Rod), Tony Hadley (of Spandau Ballet), Christopher Biggins, Daily Express publisher Sir Richard Desmond, Tom Conti, Melanie Sykes, Melanie Blatt, Sir Richard Sykes and Baroness Susan Greenfield. The Trust is celebrating its tenth anniversary year in 2010 through a series of fundraising events with the target of raising £1m.
The Lowe Syndrome Trust is a UK registered charity, No 1081241.
For further information regarding Lowe Syndrome Trust tenth anniversary events and initiatives please contact Mark Emms on 0845 127 6676 or , or visit www.lowe10.com
The images on this site are free for the press to use in articles about the Lowe Syndrome Trust. Further images are available in the image library.
For further information, please contact:
Lorraine Thomas, chair
The Lowe Syndrome Trust
Tel: 020 7794 8858 / 07958 444020
Email:
Site: www.lowetrust.com