Smart Deco Art-Led Home Wares are for Life, Not Just for Christmas
2011-11-24


November 24, 2011, Press Dispensary.
For those seeking stylish and unusual gifts for Christmas 2011 and throughout the New Year, Brighton-based artist and designer, Jacqueline Hammond, is providing the perfect art-led antidote to the predictable products served up by major online and offline retailers. Jacqueline's independent retail website, Smart Deco (
http://www.smartdeco-style.com
) is the place to please a loved one or friend by obtaining an unusual and quirky art print deckchair, art print cushion or printed canvas that evokes summer during the deep mid-winter and beyond.
A sister company to Smarty Lamps, which retails retro-inspired lighting and has traded successfully online since 2004, Smart Deco designs and sells products exclusively in the UK and, wherever possible, manufacturers them domestically too. The products are based on Jacqueline's thought-provoking artworks that draw from "life's rich tapestry". Original paintings and designs are interwoven with irresistible interiors and lifestyle accessories, home furnishings and garden furniture.
Key products include Jacqueline's series of art print deckchairs, which evoke a sunny beach or shady avenue of trees from the customer's back garden or patio, without having to visit the attraction in person. Even when sitting in the conservatory at Christmas and glancing out at the icy vista, the customer can enjoy a summer's day at Brighton beach or the hot springs at Santa Fe in Granada, Spain. Designed to be durable, the art print deckchairs are made of hard wood, feature washable canvas slings and fold flat for easy storage. They were recently photographed by the Wall Street Journal, Stateside, and featured in The Sunday Telegraph's, 'Stella' magazine's 'British Seaside Issue' on 17 July, 2011.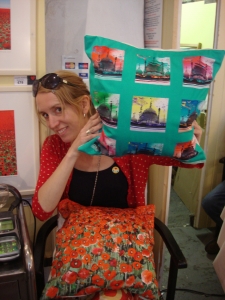 Another popular choice for 'sitting pretty' at Christmas and the New Year is Jacqueline's art print cushions. Vibrant, stylish designs include the 'Jellyfish' cushion based on an abstract painting of the sea creature; 'Poppy Fields' taken from Jacqueline's acclaimed poppy series; and pop art prints of Jacqueline's 'Acid Pavilion' photos, where "the future's so bright, it's twisted"… as well as being comfortable and cosy for those seated on it! All the cushions measure 45x45cm, have machine washable covers with calico backings and come complete with the inner pad.
The poppy prints are also appearing on fabric shopper bags and cross body handbags… ideal for accessorising any winter outfit with something vibrant and uplifting.
Christmas is a time to light up your personal space and this can be done tastefully using Jacqueline's art print lampshades. The poppy reappears in two guises in the 'Blowing Poppies' lampshade and the 'Poppy Fields' lampshade. Another option for creating a bright and cheerful room is the 'Seaside Lampshade', featuring silhouetted characters enjoying themselves in front of Brighton Pier. The lampshades are handmade using cotton drill fabric and are all 30cm in diameter.
Says Jacqueline: "I love creating art and have a natural urge to paint. The idea behind Smart Deco is to present high-end art pieces that have a practical purpose, while providing an alternative to soulless retail centres where designs are mass-produced and impersonal. If bought for Christmas 2011, the Smart Deco products will give stylish service long after the tinsel and turkey has been swept away."

- ends -
Notes for editors
Smart Deco exists to sell the art-led designs produced by Jacqueline Hammond, a Brighton-based artist who takes inspiration from "life's rich tapestry". The products - from art print deck chairs to contemporary cushions - are quirky and thought-provoking, as well as being produced in the UK, wherever possible.
Jacqueline's previous artistic work has included a series of 'Pebble Heads' paintings, using stones taken from Brighton beach to form the subject's heads; the 'Acid Pavilion' series of photographs of Brighton Pavilion where "the future's so bright, it's twisted"; amusing and ironic depictions of the Queen of England and the May 2011 Royal Wedding; Cuban street scenes depicting 1950's cars; a comic strip take on Venice; and a range of other works drawing on the mediums of acrylic, watercolour, pen and ink and photography.
The 'Life's a Beach' art print deckchair was recently picked up by the Wall Street Journal for a photo session Stateside and also appeared in the Sunday Telegraph's 'Stella' magazine.
As well as being a renowned artist, Jacqueline is a lampshade-maker. She runs a successful lighting company, Smartylamps (www.smartylamps.co.uk).

For further information, please contact:
Jacqueline Hammond, Smartdeco / Jacqueline Hammond
Tel: 07977 486 603
Email:
Site: www.smartdeco-style.com