Better anabolic drugs needed for osteoporosis if we're to move from mitigation to cure, symposium hears
2014-05-20


May 20, 2014, Prague, Czech Republic. Press Dispensary. One of the holy grails for the treatment of osteoporosis is the development of new, more potent anabolic drugs able to increase bone formation without the current level of negative side effects. This was the theme today of a major symposium at the 41st European Calcified Tissue Society Congress, being held in Prague, May 17-20, 2014. The symposium, held this morning, was presented by Roland Baron, of the Harvard Medical School and School of Dental Medicine, Boston, and Adolfo Diez-Perez of the Hospital del Mar-IMIM, Autonomous University of Barcelona, and was chaired by Christian Roux and Jan Stepan.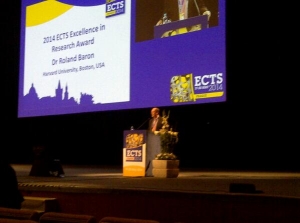 Professor Baron described how osteoporosis results from a dysfunction of bone remodelling, leading to greater fragility and resulting fractures, and he spoke of how treatment must balance bone resorption (the breaking down and weakening of bones, which increases with age) with bone formation. Therapeutic intervention at the moment focuses mostly on anti-resorptives, such as bisphosphonates and denosumab, which are effective at reducing fractures and are reasonably safe, but strongly reduce remodeling, preventing bone renewal.
Anabolics, on the other hand, are designed to increase bone formation but at the moment are constrained by limits on their effectiveness and safe use. Professor Baron gave the examples of Teriparatide, Romosozumab and Blosozumab. Teriparatide is efficient, used in severe cases of osteoporosis, but while it increases bone formation it also increases bone resorption, limiting its use. It is also restricted, by safety concerns, to a lifetime maximum use of only 2 years, it involves daily injections and is expensive.
The other products, still only at a study stage, can also be beneficial but again have time constraints: decline in effectiveness over time suggests that treatments might only last a year, perhaps repeated after anti-resorptive treatments. Dr Baron also discussed the cellular and molecular basis that might explain the limitations in efficacy observed by these three anabolics.
Professor Diez-Perez also spoke of the current limits on anabolic use, describing the common need for clinical judgements on a patient by patient basis, balancing the potential benefits against safety concerns, potential contraindications and cost.
He then described some of the clinical scenarios in which anabolics might be the preferred treatment, prime among them being cases of very advanced disease, measured in terms of BMD and existing fractures, where anabolics might be used to induce a ³remission², leading to a maintenance therapy for consolidating the achieved gains in bone density and strength. Here, anabolics might be used alone or, in theory, in combination with a potent antiresorptive, though the combined approach is only in an investigational phase, needing more evidence of fracture efficacy. However, it looks promising where there is a substantial risk of hip fracture.
Other scenarios include patients who fail to respond to oral antiresorptives, or where the risk of failure is accumulating in the patient. Here, the clinical choice might be between an anabolic and a potent injected AR antiresorptive.
A third scenario lies in cases of intolerance or, more importantly, side effects associated with the use of antiresorptives. Professor Diez-Perez highlighted osteonecrosis of the jaw and atypical femoral fractures, when the patient still is at high risk of common fragility fractures.
But the overall conclusion drawn by Professor Diez-Perez matched that of Professor Baron. At present, the focus of treatment is on mitigation and decrease of risk rather than cure. The potential benefits of new, more potent and less limiting anabolics, together with better combined treatments or regimens, including non-pharmacological interventions, might offer the route to a solution for osteoporosis.
- ends -
Notes for editors
The European Calcified Tissue Society (ECTS) is the major organisation in Europe for researchers and clinicians working in the field of calcified tissues and related fields. ECTS acts as a forum for the dissemination of high quality research through its annual meeting, the European Symposium on Calcified Tissues, and through training courses and workshops.
Calcified tissues are central to a healthy skeleton and to bone disorders - such as osteoporosis, back pain and fractures - that make life a misery for countless people. Children can inherit some forms of bone diseases causing bone pain, shortness and deformed limbs.
The 41st European Calcified Tissue Society Congress is taking place in Prague, the Czech Republic, on May 17-20, 2014.
The ECTS Annual Congress gives delegates the opportunity to collaborate with leading international researchers and clinical colleagues. Main discussion points are the latest in high quality science and research to benefit clinical practice.
ECTS 2015 will be in Rotterdam, 25-18 April 2015.
For further information, please contact:
Roberta Mugnai, ECTS executive director
European Calcified Tissue Society (ECTS)
Tel: + 32 476 520 716
Email:
Site: www.ectsoc.org

Congress site: www.ectscongress.org/2014/
Twitter: @ECTS_soc
Hashtag: #ECTS14