Large Garden? New Toro TimeMaster(TM) offers the capability of a ride-on in a mower that will fit the shed
2015-02-24
New electric start option makes it even more convenient
February 24, 2015, London, UK. Press Dispensary.
Launched recently to great acclaim, the TimeMaster™ from leading US manufacturer Toro is a 76cm/30" petrol lawn mower with the look and feel of a typical walk-behind mower, but with the cutting width of a small ride-on. This Spring sees the launch of a new electric start model, making the machine even easier and more convenient to use, as the engine simply starts on the turn of a key!
LARGE LAWN? SAVE TIME and EFFORT HERE!
Designed for homeowners with large lawns, the extra-wide yet lightweight cutting deck on the TimeMaster™ features a twin-blade cutting system and allows lawns to be cut up to 40% faster than using a 53cm walk-behind.
Surprisingly manoeuvrable, the even weight-distribution make it easy to mow round trees and landscaping features. Other clever features include Toro's innovative Automatic Drive System, which adapts to the user's walking speed and takes all the effort out of mowing a large area, adjustable handlebars and a traction-assist handle that helps tame uneven terrain and makes mowing up hills easier.
NO NEED TO EMPTY THE GRASSBAG
In common with many of Toro's mowers, the TimeMaster™ offers the option of collection of cuttings in a large capacity bag, or Recycling - where the grass cuttings are cut into tiny pieces and forced back into the turf to provide nutrients to the soil, helping to keep lawns lush and green but still leaving a fantastic quality finish, without having to stop and empty a bag every few minutes (perfect if you have a large area to mow).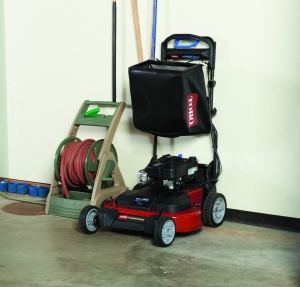 BIG BENEFITS - SMALL FOOTPRINT
The TimeMaster's surprisingly small footprint and quick-stow handle mean that users have the productivity of a small ride-on mower and it can be stored as a normal lawnmower - saving space in a garage or shed.
The sturdy steel deck, cast aluminium frame and Briggs & Stratton 190cc OHV engine ensure durability and reliability - and all are covered by a three year full consumer warranty and Toro's three year Guaranteed-To-Start promise.
TimeMaster™ is available from a network of specialist dealers now, priced at £999 for the recoil-start model or £1079 for the electric start version. For more information, including how to find the nearest stockist, visit www.toro.co.uk/timemaster or call 01279 603020 to request a brochure.
- ends -
For further information, please contact:
Caroline Bennett, PR Inc
PR Inc for Toro
Tel: 020 7394 0466
Email:
Site: www.toro.co.uk