Emotional robots, space planes, and digital Shakespeare take The Times Cheltenham Science Festival to new frontiers
2016-04-08


April 08, 2016, Cheltenham, Gloucestershire, UK. Press Dispensary.
Featuring the latest in companion robots, an interactive talk on Virgin's new space plane, and a special event on the RSC's new digital production of The Tempest, this year's Times Cheltenham Science Festival will be the most ambitious yet. Taking place over six days (7-12th June 2016) it is bigger than ever before, with more than 200 shows, talks, and workshops for children, families, and adults.
The festival's themes for 2016 focus on new frontiers in technology and space exploration, developed with the help of the 2016 Guest Directors BBC Technology correspondent Rory Cellan-Jones and former president of Virgin Galactic Will Whitehorn.
Festival Director David Reid said: "This year we are celebrating the disruptive thinkers who work at the edges of human ability and understanding - developing new technologies that change our lives and changing our understanding of the world."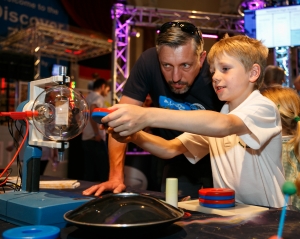 "2016 will see a dramatic shift in the way we interact with technology. In the year that computers started writing poetry and a driverless car has had its first accident, we will look at the hardware that's going to have the biggest impact in the next year - from virtual reality to companion robots."
"From Virgin's new space plane to colonising Mars, we look at the greatest challenges for space exploration and how we can conquer them with events on the International Space Station, aliens, Planet 9, space ports, smashing galaxies, Star Trek, and much much more."
New this year:
• Just as British astronaut Tim Peake returns to earth, following his inspirational Principia Mission, a free interactive Space Dome will be landing in the festival's tented village. Here, would-be space voyagers can find out what it takes to launch a rocket, live on a space station, navigate a solar storm, set foot on a new planet and fly among the stars.
• In a new collaboration with the Cheltenham Design Foundation we will be exploring the space between science and design - designing for life and death, designing homes and cities and even body parts. 'Designing the future' is a special strand of 13 events that explore the way science and design can transform how we live.
• This year's Festival also has more free and interactive events than ever before. We'll be bringing science …around town with pop-up events, science buskers, and hands-on activities in the heart of the town as well as our interactive zones on site. Visitors can try out a VR obstacle course in the Discover Zone, get blown away by wind power in the Siemens Curiosity Zone, explore the universe in the Space Dome, design a high-tech smart bedroom in the EDF Energy Zone, fly a plane in the GE Pavilion and get up close and personal with BBC presenters in the BBC Science Zone.
• Our new 'Times Debate' series will consider major questions like the Origin of Genius, Science and Faith and Science and Politics. And each day leading Times journalists will host a question time with a selection of the day's speakers.
Plus:-
Nature and Psychology
Richard Dawkins discusses evolution; we talk to Thomas Thwaites who lived as a goat; we explore consciousness, the Celts, rare breeds, and put a chimp on trial. We'll look at Science and Sexism, the Myth of Masculinity, bringing up boys, helicopter parenting, and why increasing numbers of students have turned to sex work to fund their studies.
Genetics
Pulitzer Prize-winning, bestselling author Siddhartha Mukherjee explains the role genes play in human development and various events will explore advances in Genetic Modification: of vaccines, mosquitos and gene editing.
Health
We'll be looking at all aspect of health, from the pursuit of physical excellence and what makes a champion to mind-body medicine. In mental health, Robin Ince wonders if being a comedian drove him mad; we consider the power of placebos, the threat of antibiotic apocalypse and wearable tech.
Family
The Festival is a great place for families to enjoy learning and exploring together. There are scores of free hands-on activities in the Discover Zone, Experitent and all over the site. On Saturday and Sunday is a varied children's programme for ages 5 to 12+ with a range of fascinating topics. Favourite children's TV presenters Marty Jopson and former Blue Peter presenter Steve Mould will be there.
Popular science
We find out the secrets behind the perfect pint, plate of chips and hand of poker. With no topics off-limits, we'll be tackling politics. religion, sex and death. We'll be talking Embarrassing Bodies with the TV doctors, hearing from the Parasite Appreciation Society and learning about the science of disgust.
Arts
In this 400th anniversary year of Shakespeare's birth, the RSC's Director of Design will reveal the digital alchemy behind their 21st century production of The Tempest. Messiaen's Maths analyses the maths contained in The Quartet for the End of Time, and we'll see how science is influenced by contemporary art and contemporary dance.
The full Science Festival programme goes on general sale on Wednesday, April 20. Sign up for programme announcements at www.cheltenhamfestivals.com. Box office: 01242 850270.

- ends -
Notes for editors
Cheltenham Science Festival: 7 - 12 June 2016
Festival Director David Reid is available for interview on request
Full brochure: http://www.cheltenhamfestivals.com/science/
Images: http://cheltenhamfestivals.phanfare.com/media
Press accreditation: https://cheltenhamfestivals.wufoo.eu/forms/press-accreditation-form-cheltenham-festivals/
#cheltscifest @cheltfestivals
www.facebook.com/cheltenhamfestivals
The Times Cheltenham Science Festival is a six-day celebration of science, engineering and the arts and is produced by Cheltenham Festivals. A rare opportunity for the public to come face-to-face with around 300 of the world's leading scientists and thinkers, the Festival annually issues more than 40,000 tickets, while the free interactive Discover Zone and other free events and exhibitions attracts over 14,000 visitors. The six day Festival delivers a mix of cutting-edge research, serious debate, live experiments, surprising discoveries and entertaining events, all in the heart of Cheltenham in a tented Science Village.
For further information, please contact:
Bairbre Lloyd, PR and communications manager
Cheltenham Festivals
Tel: 01242 537284
Email:
Site: www.cheltenhamfestivals.com

Twitter: https://twitter.com/cheltfestivals
 # https://twitter.com/hashtag/cheltjazzfest
 # https://twitter.com/hashtag/cheltscifest
 # https://twitter.com/hashtag/cheltmusicfest
 # https://twitter.com/hashtag/cheltlitfest
Facebook: https://www.facebook.com/cheltenhamfestivals

Cheltenham Jazz Festival 26 April-1 May 2017
Cheltenham Science Festival 6-11 June 2017
Cheltenham Music Festival 30 June-16 July 2017
The Times and The Sunday Times Cheltenham Literature Festival 6-15 October 2017