Crumbling UK parliament may be saved by state of the art British technology
2016-06-16


June 16, 2016, London, UK. Press Dispensary.
The Palace of Westminster is crumbling. And it seems likely that once the EU referendum is out of the way, MPs will be voting on the huge cost and inconvenience of its repair. However, a highly respected industrialist - and founder of a world-leading sealant company - is proposing a far simpler way of saving the building, costing the country considerably less than the estimated £4bn-£7bn and avoiding the need for MPs and peers to move out for six years.
In 1967 Peter Young founded Ultraseal International, the Coventry-based global leader in impregnation sealant and equipment, and ran it for decades. He created and patented the technology that in 1979 revolutionised his industry and that now appears under the bonnet of every car manufactured, worldwide, and in a variety of other situations where steel and iron castings (such as a car engine) must not leak.
Though no longer involved with Ultraseal, Young has continued to advance the technology he pioneered, spending five years developing a revolutionary new variant that has become the sector's cutting edge. Marketed under the brand X-Seal, Young's new products work not only with metal castings but with porous buildings, which is where the Palace of Westminster comes in.
Peter Young says: "The Palace of Westminster leaks. That's its fundamental problem, as it is built from porous stone on marshland in rainy London. Our chief product, X-Seal Acrylic-C120, is designed to impregnate and seal porous structures and it can perform its magic on the stone of Westminster. There is nothing else remotely like it anywhere in the world."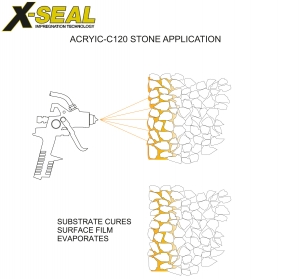 X-Seal Acrylic-C120 works by filling cavities, just as a dentist might fill tooth cavities. Cavities in building fabric cause decay by trapping water, which freezes and fractures the stone, resulting in more cavities and slow, endless decline. Through capillary attraction, Acrylic-C120 saturates and seals the voids, providing protection by denying access to moisture and oxygen.
Young continues: "Without Acrylic-C120, a building restorer's choices are limited. Coat the outside with silicon? Replace the breached sandstone with newly quarried stone, piece by piece? Acrylic-C120 avoids both these. It is not a surface coating: indeed, product left on the surface will evaporate. And it does not entail the huge cost of laboriously replacing the weathered stone with a new-looking, unweathered substitute.
"Instead, it does its job inside the structure. And larger visible voids can be filled with the same substance as the structure - for example, spent sandstone ground down to free-flowing sand and swept into cracks and voids - which is then saturated with the acrylic to maintain the visual integrity of the antique building while providing 21st century protection."
The benefits are not only visual. Application is far simpler, quicker and less intrusive than anything presently proposed for the Palace's restoration.
Young says: "Acrylic-C120 can provide restoration and protection at a fraction of the time and cost being proposed to MPs. Over 90% of the Palace's problems could be overcome by simply sweeping free flowing sand into the outside of the structure, followed by acrylic impregnation. Weather protection would be achieved with an hour of each application and there would be no need to tent the structure or to treat areas that remain in an acceptable condition.
"And into the future, as the building inevitably continues to settle, periodic retreatment with the impregnant is all that's needed to keep the structure tight."
The exact date of the House of Commons debate is not known but it has been predicted that the Commons leader Chris Grayling will introduce proposals within weeks.
Peter Young concludes: "Current proposals are expected to cost billions and require a lengthy relocation of our seat of government. Many MPs may welcome the prospect of avoiding all this by embracing cutting edge British building technology, designed to restore the structure quickly and efficiently and to slow the rate of decay significantly. I believe they should be given the opportunity."
- ends -
Notes for editors
A remarkable new technology, X-Seal Acrylic-C120 acts as adhesive, sealant, impregnant, consolidant and encapsulant. It has a low level of toxicity and a pleasant smell, and is simple to apply, by drip, pour or spray. It sets, weather-proof and firm, in minutes and is designed to cure in the absence of air. It can even cure when immersed in water. Sites require no special preparation, other than to be clean and dry, and across many areas the surface appearance may seem unaffected.
X-Seal Acrylic-C120 is on sale as a retail and trade product and would be applied in large restoration projects by licensed contractors.
For further information please contact
Peter Young, X-Seal
Tel: 01590 675751
Email:
Site: www.x-seal.co.uk