All I Want for Christmas is a 'BikeParka' Bicycle Cover
2016-10-18
The perfect present for any cyclist - man, woman or child
October 18, 2016, London, UK. Press Dispensary.
Choosing seasonal stocking fillers for friends and loved ones can be a conundrum but it's simple this Christmas with BikeParka (
http://bikeparka.com
), an all-weather, design-led bicycle cover which is the perfect Christmas present for the cyclist in your life. Appealing to your bicycle-riding partner, work colleague, family member or child, that's just about everyone covered with a thoughtful gift costing under £40.
For anyone who loves their bicycle, BikeParka is the perfect Christmas cracker to find under the tree on December 25. BikeParka wraps around the recipient's bicycle, keeping it snug, safe and dry from the winter elements. With some pundits forecasting another 'Big Freeze', there's no need to 'Let it Snow' on your bicycle. With BikeParka in place, the cyclist can always mount a clean and dry seat. BikeParka is ideal for storage whether your bicycle is kept indoors or outdoors and it discourages sneak thieves by concealing the bike.
For your Christmas shopping list, various BikeParka options exist. A child or reckless BMX rider will like BikeParka SMALL, which is specially designed to provide a snug and secure fit for small frames. BikeParka SMALL can be adjusted to fit slightly different heights and shapes of bike frame, so your child won't outgrow it quickly, even if they change their bike after Christmas.
Perhaps your hubby or boyfriend keeps his bike in the garden or on the balcony? The BikeParka STASH cover is ideal for those who lack indoor storage space: it protects the bike even in the harshest of weather and keeps it tidied away. If Santa Claus had a bike instead of a sled, he'd definitely use one of these!
Does your wife or girlfriend cycle to work or to the gym? If so, the BikeParka URBAN cover is the right choice for cyclists who leave their bikes in public spaces. It has Velcro lock-through panels so that the bicycle lock goes through to secure the BIkeParka cover to the bicycle, preventing theft of your Christmas present!
Last but not least is the BikeParka Christmas gift for your friend who rides a big bicycle. BikeParka XL is a super-sized cover that fits mountain bikes or bicycles with wider handlebars or those fitted with child seats.
'Stash' costs £29.95, measures 220cm x 140cm and fits handlebars up to 65cm.
'Urban' costs £39.95, measures 220cm x 140cm and fits handlebars up to 65cm.
'Small' costs £24.95 measures 160cm x 120cm and fits handlebars up to 55cm.
'XL' costs £34.95, measures 225cm x 140cm and fits handlebars up to 100cm.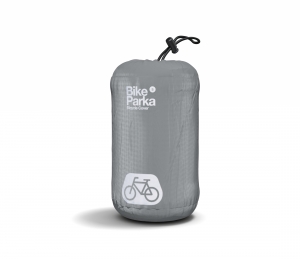 Each BikeParka comes with its handy Stuff Sac: simply grab a corner of the BikeParka and literally start stuffing it into the bag, rather like you would stuff the Christmas turkey - there's no need to be neat!
As well as being sold in good bicycle stores, BikeParka is available on three-day online shipping from Amazon or BikeParka.com and the last order date for guaranteed Christmas delivery is Tuesday 20 December.

- ends -
Notes for editors
BikeParka is a brand owned by Fatsumo Ltd - a small, UK-based business set up to design and market cycle-related goods. BikeParka is the company's first product and was designed in collaboration with Kiwi Camping Company Ltd, an independent camping manufacturer which has specialised in tents and outdoor equipment for over 20 years.
For further information please contact
Greg Bourne, BikeParka
Tel: 020 3286 0495
Email:
Site: www.bikeparka.com