Queens World Film Festival, New York - positive screening for Positive Hell
2017-03-15
Follow-up screenings also announced for Harlem and Jackson Heights, NY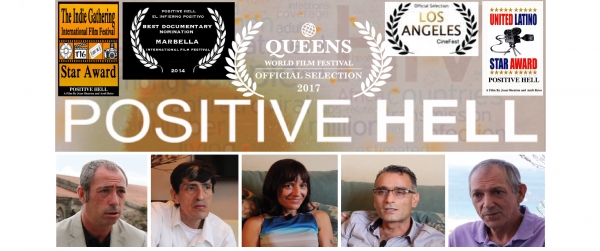 March 15, 2017, NEW YORK, NY. Press Dispensary. New York's 7th annual Queens World Film Festival (QWFF) is to open tonight's LGBTQ+ block of film screenings with the multi-award winning British documentary Positive Hell. The film will then screen on Sat March 18 at noon in Harlem, NY, and early evening in Jackson Heights, NY, under the auspices respectively of National Action Network - House of Justice and Parents in Action for Leadership and Human Rights.
The 30-minute film, written and narrated by Joan Shenton and directed by Andi Reiss on location in Galicia, Spain, follows the remarkable lives of five people, once diagnosed HIV positive, to explore burning questions which concern LGBTQ+ communities and populations in the developing world with high rates of HIV/AIDS diagnoses: just how reliable are the regular tests and diagnoses for HIV and how essential is it for everyone found HIV positive to submit unquestioningly to a possible lifetime regime of antiretroviral drugs?
In the 1980s, Manoel, Pablo, Raquel, Jesus and Manuel, the last a practising medical doctor (above), each had to confront these difficult questions following their own diagnoses and the bleak futures presented by their doctors. Though very different people they have one thing in common: they all chose for varying reasons not to take the HIV treatments that were offered as, seemingly, their only hope. Almost three decades later, all five were living entirely normally, without the treatments, and Raquel had had two children who themselves are now healthy adults and HIV negative.
As well as recounting their stories, Positive Hell explores their feelings about the decisions they took, their experiences of living with the hell of a positive diagnosis, their struggles with fears of the "death sentence", their battles with the medical profession and their growing need to question the "normal" approach to HIV/AIDS.
Writer and narrator Joan Shenton explains: "An HIV antibody positive diagnosis can be caused by many different factors, from recreational drugs to pregnancy, yet can lead to a lifetime of fear and, effectively, drug dependency, not to mention serious side-effects for some. It is also at the centre of a multi-billion dollar global business.
"More and more HIV positives are questioning whether the big business approach is the right one for HIV/AIDS. Our film Positive Hell meets five of them and hears their very personal side of the debate, a debate that is vital for the LGBTQ+ communities who are so affected by HIV/AIDS."
In 2016, Positive Hell won star awards at the United Latino Festival and The Indie Gathering, was earlier nominated for best documentary at the Marbella International Film Festival and was selected for the LA Cinefest, the Digital Griffix online festival and Indie Festival 01, with more selections to be announced for 2017.
Positive Hell will screen tonight (Wednesday March 15) at 20.15, Zukor Screening Room, Kaufman Astoria Studios, 34-12 36th Street, Astoria, NY. Joan Shenton will attend the post-screening Q&A. For more info and tickets see http://bit.ly/QWFF-PosHell .
Saturday March 18 screenings are 12pm, National Action Network - House of Justice, 106 W. 145 Street, Harlem, NY 10039, and 6pm, Parents in Action, 9551 Roosevelt Avenue, 2nd Floor, Jackson Heights, NY 11372. For press tickets contact Joan Shenton (below). Joan will attend both screenings.
- ends -
Further information, interviews and photos:
Joan Shenton
Tel: US 011 44 79 57 58 55 15 / Intl + 44 7957 585515
Email:
Site: bit.ly/QWFF-PosHell

POSITIVE HELL - film documentary
Length/format: 30 mins/HD
Writer and narrator: Joan Shenton
Music: Mark Wood
Associate producer: Mark Wood
Producers: Andi Reiss and Joan Shenton
Director, cinematographer and editor: Andi Reiss