Award winning film Positive Hell bags another award and New York acclaim
2017-03-23
•
Positive Hell awarded prestigious Special Jury Prize by Queens World Film Festival
•

Three screenings in New York pass without incident, despite phone threats describing the film as very dangerous
•

Corporate interests blamed for intimidation of previous festivals that led to film being banned




March 23, 2017, NEW YORK, NY. Press Dispensary.

The HIV/AIDS documentary film

Positive Hell

added a new trophy to its array of film festival awards this weekend when it received the prestigious

Queens World Film Festival

(QWFF)

Special Jury Prize for World Social Impact.

The award was presented to the film's writer, narrator and producer Joan Shenton by the festival co-directors Katha Cato and Donald Cato, who described

Positive Hell

as "a very important film".

The award came at the end of a significant week for Positive Hell, whose festival and award successes in 2016* had been overshadowed by sudden barrings from two London film festivals and a New York screening, all following hefty and controversial behind-the-scenes lobbying.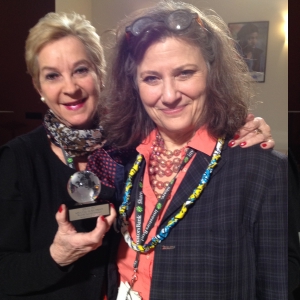 Joan Shenton described the week: "On Wednesday, we were pleased to see Positive Hell open the LGBTQ+ section of the Queens World Film Festival. The film tells a story of huge importance to LGBTQ communities and we were delighted not just at the size of the audience, the acclaim or the opportunity for this audience to see the film, but because of an unanticipated moment after the screening.
"Then on Thursday, using YouTube, we released our new short film, Censored, which tells the story of how behind-the-scenes intimidation, with threats of boycotts and mass demonstrations, had led to three separate 2016 bans on Positive Hell, something we regarded not only as obvious censorship but little short of corporate terrorism.
"On Saturday, Positive Hell was given two more screenings, with renowned journalist and AIDS writer Celia Farber taking questions, thanks to community activists in Harlem and Jackson Heights**. Both events received threats and dire warnings that the film was too dangerous to screen but this time our hosts held their ground.
"So three screenings took place in New York last week, all followed by constructive debates, and not a single demonstrator turned up to any of them, confirming our belief that the bullying and intimidation was simply a PR exercise: empty threats engineered by corporate pharmaceutical interests that didn't like the ideas expressed in Positive Hell."
Positive Hell tells the personal stories of five people who lived by choice for decades without antiretroviral drug regimes, despite having all been diagnosed HIV positive in the 1980s and despite grave warnings. Thirty years after making those choices, all five were still very much alive, ready to tell their stories and discuss their doubts about the medical advice they had received.
Joan Shenton continued: "After the QWFF screening, a member of the audience unexpectedly stood up and declared that, like the people in our film, he had been diagnosed HIV positive 27 years ago and, like them, he had rejected medical advice to take antiretrovirals and was still there to talk about it. He expressed his gratitude to those who, like him, question this medical orthodoxy. It was a poignant moment."
She concluded: "Positive Hell has been selected for further film festivals this summer and Censored is now out on YouTube as the first in a trilogy titled Positively Wrong, with the next film to follow soon. Meanwhile, the director of Positive Hell, Andi Reiss, and I and all the film's team are immensely grateful to Katha Cato, Donald Cato and the Queens World Film Festival for recognising the importance of Positive Hell with their festival selection, topped by an award that means a great deal to us.
"We are also grateful to Elizabeth Ely who set up Saturday's screenings and Rolando Bini, President of the Family Preservation Committee at the National Action Network - House of Justice in Harlem and director of Parents in Action in Jackson Heights, for sticking to his guns and ensuring that people directly and indirectly affected by HIV/AIDS were able to see our work for themselves and debate its message."
The censorship of Positive Hell in London is now the subject of an investigation by Index on Censorship, which is expected to report soon.
- ends -
Notes for editors
* In 2016, Positive Hell won star awards at the United Latino Festival and The Indie Gathering. It was also selected for LA Cinefest, the Digital Griffix online festival and Indie Festival 01, having earlier been nominated for best documentary at the Marbella International Film Festival. It was selected for the Queens World Film Festival in March 2017, with more selections to be announced for 2017.
** Positive Hell was screened on Wednesday March 15, 2017, at the Queens World Film Festival, Queens, New York, then on Saturday March 18 at National Action Network - House of Justice, in Harlem NY, and at Parents in Action, Jackson Heights, NY.
About Positive Hell
Positive Hell is a 30-minute documentary that follows the lives of five people, once diagnosed HIV positive, who refused a lifetime of antiretrovirals and lived on in defiance of standard medical prognoses. Both films are written and narrated by Joan Shenton and directed by Andi Reiss.
In the 1980s, Manoel, Pablo, Raquel, Jesus and Manuel, the last a practising MD, each had to confront difficult questions following their diagnoses as HIV positive and the bleak futures presented by their doctors. Though very different people, they had one thing in common: they all chose for varying reasons not to take the HIV treatments that were offered as, seemingly, their only hope. Almost three decades later, all five were living entirely normally, without the treatments, and Raquel had had children who themselves are now healthy adults and HIV negative.
Their stories explore burning questions which concern LGBTQ+ communities and also populations in the developing world with high rates of HIV/AIDS diagnoses: just how reliable are the regular tests and diagnoses for HIV and how essential is it for everyone found HIV positive to submit unquestioningly to a possible lifetime regime of antiretroviral drugs?

For further information please contact
Joan Shenton
Tel: US 011 44 79 57 58 55 15 / Intl + 44 7957 585515
Email:

Positive Hell: www.positivehell.com
Positively Wrong trilogy: http://bit.ly/IRFChannel
Censored: http://bit.ly/IRFCensored