Bremain in Spain's Sue Wilson to speak at 'Unite for Europe' March
2017-03-24


March 24, 2017, Press Dispensary. A speaker at the Unite for Europe March in London today will be Sue Wilson, chair of Bremain in Spain (http://www.bremaininspain.com), a group campaigning for the rights of 319,000 British citizens living in Spain. The only person speaking about the rights of British citizens in Europe, she will be speaking alongside Tim Farron, Nick Clegg, David Lammy, Green co-leader Jonathan Bartley and Jolyon Maugham. The march is taking place today from 11am in central London, to converge on Westminster. The speeches will take place in Parliament Square from 1-3pm.
Hundreds of EU-based British citizens, from the groups Bremain in Spain, Remain in France Together (RIFT), Brexpats-Hear our voice and Brussels and Europe LibDems (BELD), have pledged to attend the London march, some flying from far-flung corners of Europe, to show their support for the UK's place in the EU.

Organised to coincide with the 60th anniversary of the Treaty of Rome, which established the European Economic Community (EEC), Unite for Europe ( https://www.uniteforeurope.org) enables those who oppose Brexit to have their voices heard. As well as the London event, rallies are taking place today in Rome, Madrid and Edinburgh. The London march is going ahead despite the act of terrorism that sadly occurred at Westminster on Wednesday. One minute's silence will be held at the start of the march.
Sue Wilson says: "Firstly, let me say that we are deeply saddened by the attacks on Wednesday and our thoughts are with the families and friends of those who lost their lives or were injured. We must not allow ourselves to be intimidated by acts of terrorism."
Sue Wilson will be marching with 50 of her group and is being closely followed by film-makers, will tell the crowds how UK citizens in the EU stand to lose not only their freedom but what they value the most - their homes. She points out that a third of British citizens in Spain are pensioners and the other two thirds logically comprise those who are younger with jobs, businesses and children in school who must retain the right to work or study and to have their qualifications recognised. Sue supports unilateral safeguards for EU citizens in the UK, as soon as possible.
"Imagine your life in your home town - family, friends, a social life, familiarity, security, a feeling of being at home. Now imagine that, because of a vote from which you were excluded, you might be forced to move to another country - one you don't know or recognise, where you may not know anybody, where the weather is detrimental to your health, your life expectancy is shorter, you can't afford to buy or rent property and you have no access to healthcare for six months. That is the fate that awaits hundreds of thousands of pensioners in Europe if the UK government refuses to continue to pay for healthcare and index-linked pensions for UK citizens in Europe."
She adds: "The government is not acting in our best interests. It is not even listening to us - out of sight, out of mind. It is not even listening to the recommendations of its own Exiting the EU Select Committee. We are not bargaining chips or negotiating capital, nor are we trade or services - we are people.
"I believe Brexit will be a disaster and it has to be stopped. Maybe not today, maybe not tomorrow, but public opinion will change over time and, when Brexit is no longer the 'will of the people', Parliament will have no choice but to listen and act in the best interests of the country.
She concludes: "I am proud to be a European, I value my EU citizenship very highly. Theresa May will need to prize my European rights from my cold, dead hands."
Kalba Meadows from RIFT, representing 5,500 UK citizens living in France, adds: "We are concerned for our own futures in France and, like our EU friends living in the UK, we feel as though we're being used as human shields. We're not marching just for that. We're marching for generations to come who, if Brexit happens, will never know the freedoms and opportunities we've enjoyed. And we're here to say to the people of the UK that it's not too late to change your minds. The evidence is pointing to Brexit being a disaster in so many ways - don't let it destroy our country."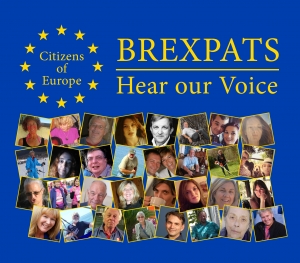 Debra Williams of Brexpats - Hear our Voice comments: "We represent UK and EU Citizens from all walks of life. We are frustrated at being disenfranchised, disregarded and sometimes derided. The March is a symbol of being seen and heard. We don't deserve to be part of a political game and we want to show the government that we feel totally ignored and forgotten. We also want to show the EU that it still has massive support in the UK."
Laura Shields, Chair of Brussels and Europe Liberal Democrats said: "We are marching for peace. We are marching for values. We are marching for security. As UK citizens living on the continent, we know that working closely with our European neighbours has always been the best way to demonstrate the tolerance, decency and openness that many of us Brits hold dear. It's not too late to stop this nightmare. Let's turn our backs on Brexit - not the EU."
One Bremain member, Barbara Leonard, has produced a special hat with 308 EU yellow stars attached, each bearing the name of a Bremain in Spain group member who cannot physically attend the Unite for Europe March. Many members who cannot attend will be showing their support on social media throughout the day.
Live updates about Bremain in Spain at the Unite for Europe March will be appearing throughout the day at: https://twitter.com/bremaininspain
- ends -
Notes for editors
Bremain in Spain is a group that is campaigning for the UK to remain in the European Union and to protect the rights of British migrants living and working in Spain. Run by a team of volunteers and chaired by Sue Wilson - a resident of the Valencian Community - the group advocates a tolerant and outward-looking society. It believes this is best achieved by the UK remaining a member of the EU and citizens retaining freedom of movement. Bremain in Spain is actively campaigning on a number of initiatives. During January 2017, Sue Wilson appeared in front of the Parliamentary Select Committee for Exiting the European Union at the Houses of Parliament, Westminster, to present evidence about the concerns of UK citizens living in Spain. Since then, the group has appeared frequently in the media. Bremain in Spain is affiliated to Britain for Europe.
Useful links:
http://www.remaininfrance.org
https://www.facebook.com/Brexpats-Hear-our-Voice-1013052115430056/
https://uklibdems.eu/en/

For further information please contact
Sue Wilson, Chair
Bremain in Spain
Email:
Jo Chipchase
Press Officer
Email:
Tel: + 34 696 056 328

Alastair Stewart
Deputy Press Officer
Email:
Tel: + 44 7549 504281

Site: www.bremaininspain.com
Facebook: Bremain in Spain
Twitter: @BremainInSpain