Bremain in Spain Members "Living in Limbo" in the EU
2017-05-02
Case histories, available on demand
May 02, 2017, Valencia, Spain. Press Dispensary.
Bremain in Spain (
http://www.bremaininspain.com
), a group that campaigns for the rights of British citizens living in Spain, is concerned about the many people who are "living in limbo" following the Referendum. Many UK citizens currently based in Spain do not qualify for residency before 2019 or they have business and family interests spread across the two countries. Their personal circumstances have been thrown into uncertainty by Brexit and by the lack of guarantee for the rights of UK citizens living in the EU, and vice versa. These people - families, workers and pensioners - are far removed from the stereotypical expats living in British enclaves who are depicted frequently in the UK press.
Malcolm Witherington lives near Vinuela, near Malaga, with his wife. The couple is retired and moved to Spain in 2000 to build a villa on a plot of land - eventually constructing a garden, fruit trees and a patio. Malcolm is concerned about healthcare. He says: "I receive a Spanish invalidity pension. I had an accident at work, lost a leg and badly smashed the other foot. I receive a new leg biannually, as well as a foot support and pair of shoes that will accommodate this larger foot. I am concerned that I could lose the vital care I receive after Brexit. I hoped to live the rest of our days in Vinuela, as we have made many Spanish friends and our whole life is based here."
Lou and Pauline Powell, a retired married couple in their mid-60s, live in Cumbria, UK, and are planning to move to Competa, near Malaga, Spain. Their UK house sale was about to complete to a cash buyer in May 2015 when a boundary dispute put it on hold. The legal dispute is now ending, meaning the property can be remarketed. In 2015, the exchange rate was GBP EUR 1.38. Today's lower exchange rate (currently 1.18) means a loss of almost 60,000 on the proceeds of the sale. Says Lou: "This obviously makes a big difference to the type of property we can afford in Spain and diminishes the funds we can keep for retirement." He adds: "We intend to move to Spain regardless, as the UK has changed beyond recognition since the Referendum and is no longer the society we knew."
Maya Middlemiss moved to Spain in 2009 and lives with her husband and daughters, aged 11 and 17, in Denia, Alicante. She manages Saros Research Ltd, a UK-based company which also employs her husband. Both work from home, with Maya flying to the UK for business meetings. Maya says: "We have the ties of a company and property in the UK but are fully committed to Spain. My eldest daughter wants to attend university in the UK. She was too young to vote in the Referendum but it's her future that's increasingly uncertain. We've raised our girls as multicultural, multilingual Europeans and I never thought they'd be facing this situation. My business depends on freedom of movement, affordable flights and a thriving UK economy. Already, our lifestyle has been affected by the fall in Sterling and it is difficult to plan for anything. We are long-term, legal residents of Spain, and would consider citizenship if it came to the crunch. For our daughters, though, the situation isn't clear cut."
Laura Schmidt is from Argentina and she moved to Spain with her British husband in 2003. The pair later divorced and Laura became a Spanish citizen, while her boys are British citizens. She says: "My sons will end up in the UK, as the eldest is attending a British university from September and the younger will follow in 2020. I don't know if they'll be able to remain EU citizens without losing their British nationality. Furthermore, I need to be able to live in the UK in the future. This was not even an issue until the Referendum. Spanish people can bring the parents of their children from abroad but the UK doesn't contemplate this arrangement. I would not have moved to Spain if I had imagined this situation was even a remote possibility."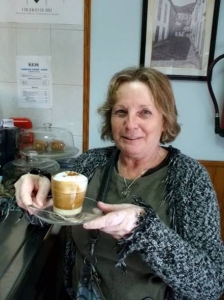 Timzen Peat, aged 75, has visited Spain - especially Málaga - for the last seven years. She has learned Spanish and plays flamenco guitar with a teacher. In 2015, she sold her house in Inverness as a step towards moving to Spain, then spent the winter of 2015-16 in Málaga weighing up a possible move and meeting up with Spanish friends. However, when the Referendum occurred, she was devastated by Scotland voting to stay in the EU but being overruled by Westminster. She says: "I cannot describe my feelings and my Spanish friends kept asking why the Brits wanted to leave. I had to postpone my idea of purchasing a house in Spain." Timzen returned to Edinburgh and bought a tiny studio flat to refurbish and inhabit while taking stock of the situation. She has since spent further time in Spain but is unsure of the future. She says: "Brexit has made me uncertain about everything. I am just treading water. I no longer have a house in the UK, the studio flat doesn't feel like home and I am unable to make concrete decisions about living in Spain. I am just going through the motions at present."
Elisabeth Bird is 63 and lives in El Hierro, Canarias. She is divorced and was previously retired but is again seeking work because of the fall in Pound Sterling against Euro depleting her disposable income. She says: "I was born in England but feel no affinity with my birth country. Many years ago, I spent a while moving between England and France and then left Britain permanently in 1977. I lived in the Irish Republic, Northern Ireland and Cuba. Moving to the Canarias in 2015 was a decision that met all my requirements. I decided to retire to Spain because, having lived in Cuba, I feel a cultural similarity and speak the Spanish language. This made it the obvious choice, thanks to EU freedom of movement." She adds: "I would not consider returning to Britain. The British climate makes me ill. I have arthritis and the cold, damp winter makes this condition worse and leads to depression. I want to live out my days in the Canarias where I am well integrated and feel at home. If I were forced to leave Spain because of Brexit, I would go back to Latin America."
- ends -
Notes for editors
Bremain in Spain is a group campaigning for the UK to remain in the European Union and to protect the rights of British migrants living and working in Spain. Run by a team of volunteers and chaired by Sue Wilson - a resident of the Valencian Community - the group advocates a tolerant and outward-looking society. It believes this is best achieved by the UK remaining a member of the EU and citizens retaining freedom of movement. Bremain in Spain is actively campaigning for various initiatives. During January 2017, Sue Wilson appeared in front of the Parliamentary Select Committee for Exiting the European Union at the Houses of Parliament, Westminster, to present evidence about the concerns of UK citizens living in Spain. Representatives from Bremain in Spain were recently part of a delegation to the British Embassy in Madrid, where they met the British Ambassador and the Department for Exiting the European Union. Bremain in Spain is supporting the Choose Freedom citizens' initiative to issue EU passports to those affected by Brexit. The group makes frequent appearances in the media in the UK, Spain and other interested countries. Bremain in Spain is part of the British in Europe coalition of 11 UK citizens' groups across the EU. It is also affiliated to Britain for Europe and European Movement.
For further information please contact
Sue Wilson, Chair
Bremain in Spain
Email:
Jo Chipchase
Press Officer
Email:
Tel: + 34 696 056 328

Alastair Stewart
Deputy Press Officer
Email:
Tel: + 44 7549 504281

Site: www.bremaininspain.com
Facebook: Bremain in Spain
Twitter: @BremainInSpain