Dry Patch Launches its Foldaway Emergency Backpack
2018-03-01
Your flexible storage friend for cycling, outdoors activities and even
summer festivals...
March 01, 2018, London. Press Dispensary.
Dry Patch (
http://www.dry-patch.com
), the urban lifestyle brand for commuters on two wheels, is launching the Foldaway Emergency Backpack for cyclists and active persons who need extra storage space, on demand and in all weathers, costing £30.
The smart simplicity of the Foldaway Emergency Backpack ensures that intrepid two-wheeled commuters - as well as hikers, campers and those enjoying the great outdoors - are prepared for their storage needs at any time.
With an ergonomic design, this lightweight backpack unfolds from approximately the size of an iPhone Plus to a stylish 18 litre, weatherproof backpack.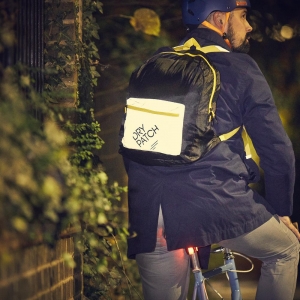 The bag offers more than enough storage space to transport the office Amazon delivery, collect groceries on the way home or carry tablets and laptops. It is made of strong RipStop material with large, super-reflective panels on the shoulder straps and the back. It also features an internal key clip and valuables pocket to keep personal items safe.
Chris Gomez, head of Dry Patch, comments: "Speaking as a two-wheeled commuter, I was sick of botching inadequate bags together when out on a ride. Gone are the days of precariously hanging plastic bags over your handle bars or juggling with a parcel you cannot fit anywhere. Our Foldaway Emergency Backpack is not only eye-catching but functional and will keep your belongings dry - whatever the weather throws at you."
When riding, the backpack can be clipped securely under the bicycle saddle using a brass carabiner. It can also be clipped to a belt loop.
The Foldaway Emergency Backpack features:
Ultra-lightweight (160g)
Strong RipStop material
18 litres of storage
Large, super reflective panels on back and shoulder straps
Water resistant / weatherproof
Folds into itself (no lose bags to lose)
Comfortable fit
Minimal, stylish design
Easy to carry, with a carabiner
Separate key clip and valuables pouch
Although the Foldaway Emergency Backpack is designed by cyclists, for cyclists, it also has applications for camping - i.e. leave your main rucksack at base camp and use the foldable bag to transport the day's snacks and supplies - and for summer music festivals, where its bright design will stand out and the valuables pocket will keep cash and mobile phones safely stashed.

- ends -
Notes for editors
Dry Patch is a London-based company run by cyclists who are well-versed in commuting in unpredictable weather conditions. The company started by launching the Dry Patch Velo Seat Cover and Moto Seat Cover and the Foldaway Emergency Backpack is the latest addition to its product range. The products are manufactured at the finest factory in the Cantonese area of China, which has a world-wide reputation for using quality leather and PU.
For further information please contact
Chris Gomez, Founder
Dry Patch
Tel: 01727 610963 / 07791 984454
Email:
Site: www.dry-patch.com