Westfield London grand opening to feature Pinkberry – the world-beating premium frozen yogurt
2018-03-12
Pinkberry to bring its light, refreshing and craveable frozen yogurt experience to the luxury White City mall expansion, opening 20 March.
March 12, 2018, WHITE CITY, LONDON, UK. Press Dispensary.
When Westfield London's long-awaited expansion opens to the public in White City on 20 March, one of the outstanding names among its international brands will be Pinkberry, the world's number one frozen yogurt. The Pinkberry kiosk will be in the extension's busiest thoroughfare, opposite the entrances to Primark and the new flagship John Lewis.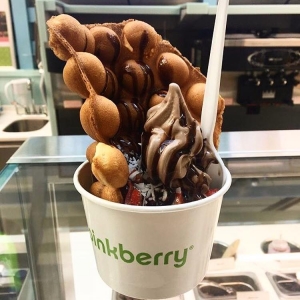 For shoppers, Pinkberry's dedicated staff will be offering the world-famous fresh, light and luxuriant frozen yogurts made from real non-fat milk and real non-fat yogurt in six distinctive flavours, with daily hand-cut fresh fruit and a choice of more than 30 toppings. For the opening, the first 100 Pinkberry customers will be offered a free Pinkberry Swirl with toppings. There will also be live music from the emerging solo artist Sammie Jay.
As a business, Pinkberry Westfield London is a significant milestone for a small group of entrepreneurial Londoners who formed The Yogurt Guys Ltd in 2015 to open their first Pinkberry in Islington, following it with their second in Westfield Stratford City last year.
Director Hani Salih said: "The new Pinkberry opening will delight Westfield London shoppers, who can now enjoy the very best the world has to offer in premium frozen yogurts and toppings, served with our uncompromising commitment to quality and freshness, and our dedication to our customers.
"Staying with us to eat or snacking on the go, customers can choose from six original flavours and then personalise every yogurt with any combination of 30 delicious toppings, including our fresh, hand-cut fruit. Alternatively, they might like our refreshing smoothies in five different flavours or our latest creation, the Pinkberry Bubble waffle, which we've launched just in time for the grand opening.
"Our luxury yogurt is made fresh, daily, with non-fat milk and non-fat yogurt blended to deliver the perfect balance of tart and sweet, creating a refreshing, light taste with a clean finish. Each flavour is crafted to complement fresh seasonal fruit cut in-store every single day - never frozen, in syrup or canned. And our unique new Bubble waffle is the perfect freshly baked companion."
Pinkberry Westfield London will be the third opening for The Yogurt Guys and the first in west London. Hani Salih continued: "One of the most exciting things about our Westfield London opening was the advance demand we experienced. A combination of Pinkberry's brand strength and the work we've done in Islington and Stratford meant we had to be there in Westfield, offering all the knowledge and experience gained from our other openings, as well as the premium product itself.
"Our approach to quality, fresh dessert and outstanding customer service are key reasons why the Pinkberry name has been so admired and successful across the world since it first appeared in Los Angeles in 2005. Yogurt enthusiasts will know that it's Pinkberry that gave frozen yogurt the popularity it has today as a treat that can be either richly indulgent or guilt-free. And now we're bringing the original Pinkberry name to Westfield London."
Pinkberry will be opening in Westfield London, opposite the main entrance to John Lewis, at 11am.
- ends -
Notes for editors
About Pinkberry
Pinkberry launched in Los Angeles, California in 2005 as the original brand that reinvented the category and now has more than 250 stores worldwide in over 21 countries. Today, Pinkberry continues to delight every customer with an experience made up of distinctive product, outstanding service and inspirational design. Pinkberry creates one of a kind, light and refreshing treats with an uncompromising commitment to quality. Pinkberry continues to lead the frozen yogurt category in international expansion. For more information on Pinkberry, visit www.pinkberryworld.com
Pinkberry Westfield London is opening as a franchise under the management of The Yogurt Guys Ltd. For more information visit www.pinkberrylondon.co.uk

About the menu
Pinkberry Westfield London will be serving premium frozen yogurt made with fresh, real non-fat milk and real non-fat yogurt in six distinctive flavours: the signature Original flavour, a sweet and tart yogurt with a refreshing finish; Salted Caramel, the perfect combination of sweet and salty, enrobed in the indulgence of caramel; Strawberry, a light and refreshing real fruit taste; Chocolate Hazelnut, a creamy, delightful chocolate with a hint of sweet hazelnut; Mango, a fruity and light flavour made with authentic Alphonso mango puree for a soothing finish; and Passion Fruit, a punchy, tropical and refreshing alternative.
Yogurts can be personalised with a choice of more than 30 toppings, including fresh fruit cut daily on site – never frozen, in syrup or canned – and such adornments as wholesome granola, gourmet baked goods and cookies, toasted nuts, 100% pure pomegranate juice, and rich, premium milk chocolate crunch imported from Italy, to name a few.
Five flavours of smoothie and the newly launched Bubble waffle complete the Pinkberry Westfield London menu.

For further information please contact
Bassam Gilini, director
The Yogurt Guys Ltd / Pinkberry Westfield London
Tel: 07590 526631
Email:
Site: www.pinkberrylondon.co.uk

Twitter: @pinkberrylondon
Facebook: pinkberrylondon
Instagram: @pinkberrylondon