Scented celebrity launch event, featuring perfume designer Azzi Glasser, announced for new immersive London arts venue, Sensorium
2018-03-16


March 16, 2018, LONDON, UK. Press Dispensary.
One of the world's most innovative and technologically advanced arts and performance venues, situated among the railway arches beneath London's Waterloo station, is to have its celebrity début next week.
Some invitations are available for members of the press.
Created by Aures London, Sensorium is soon to be Europe's first arts and events venue designed to immerse all five senses. On Wednesday 21 March, in collaboration with world-renowned perfumer Azzi Glasser, Sensorium will host an immersive evening of sexy scents entwined with 3D sounds and cinematic sensuality, with personalities including Nick Grimshaw & Lisa Snowden, actors Sir Tony Robinson, Angus Deayton and Christian Vit, and artists including Henry Hudson.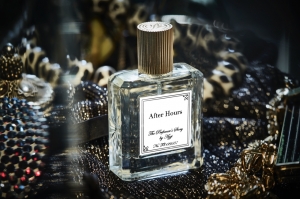 Award-winning perfume designer Azzi made her name creating ground-breaking fragrances for the world's leading fashion designers and beauty brands as well as many personal clients such as Jude Law, Kylie Minogue, Orlando Bloom and Johnny Depp. At Sensorium, Azzi will be celebrating The Perfumer's Story in an evening suffused with scents, ingeniously dispersed over time and place to delight and surprise.
Azzi's olfactory virtuosity will be complemented by fine tastes – the gustatory – with champagne and cocktails from Charles Heidsieck and Grand Marnier, and cookie & canapés by Rare Food.
This celebratory scent and taste launch will be encircled by a cinematic, live laser performance by Kimatica – a foretaste of Sensorium's visual proposition to be launched in months to come.
Meanwhile, Sensorium's auditory experience is already unparalleled, even while still in phase one of a two-part installation. Aures London's trail-blazing 3D audio system produces razor sharp, headphone-quality sound with the ability to locate sound events anywhere in the room, in three dimensions. With stunning quality and as an artform ready to explode, it is to traditional stereo sound systems what HD was to VHS. The evening will feature live performances through the system by BETSY and Willow Robinson, together with DJ Twiggy Garcia.
Aures London founder Sam Davis said: "As Sensorium nears completion for fully immersive events, we can now engage with four of the five senses, bathing our guests in sound and vision, flavours and fragrance. The beauty of a multi-sensory immersive event is not only the pleasure of the night but its recollection afterwards. We all know how evocative an aroma can be, often more deeply embedded than an image or a sound. This event will be a night quite literally to be remembered, as the scientific approach to sensory layering engages deep-rooted emotional, as well as intellectual, ties."
Sensorium is the principal venue at Aures London, Unit 7, 18 Leake Street, SE1 7NN, beneath Waterloo station. Attendance on the 21 March is by invitation only and members of the press are welcome to request an invitation using the contact details below. Photography will be exclusively by renowned photographer Dave Bennet.
- ends -
Notes for editors
Event details
Celebrating its launch with the olfactory and gustatory, Sensorium presents a celebration of The Perfumer's Story, with sexy scents entwined with 3D sounds and a cinematic sensual experience, on Wednesday 21 March 2018. Champagne, cocktails and The Perfumer's Story. Aromatised cookie & canapés from 6pm. Performances from 7pm.
About Sensorium
Sensorium is nearing completion as Europe's first five sense fully immersive arts and events venue, providing an unrivalled blank canvass in one of central London's coolest locations for art exhibitions, installations, events, live performances and corporate hire.
Phase one of its sound ("echoic") capability is complete, using Titan Reality™ technology powering a mass array of 50 Pioneer Pro Audio speakers through 10 amplifiers to produce a ground-breaking 3D sound system that is becoming the benchmark for sound system designers across the world. Phase two, due in summer 2018, will add an acoustic floor and precision-designed, bespoke wall and ceiling acoustic panelling.
Sight ("iconic") will soon be completed with the fitting of 3D mapping and visualization projection; already there is an intelligent digital moving lighting system and an extensive wired truss for visual installations.
Scent ("olfactory") and taste ("gustatory") launch next week with a scent delivery installation and a foretaste of the gastrophysics of food and beverage.
Phase two will also bring reach the sense of touch ("haptic") through the addition of low frequency bone conduction panelling.
Sensorium has capacity for up to 150 seated or 300 standing, an ideal venue with unique capabilities not only for multi-sense exhibitions and performances but for product launches, photo shoots, presentations, live music, film screenings and immersive theatre, together with corporate club nights and parties.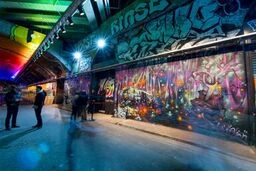 About Aures London and Leake Street
Leake Street – the famous Graffiti Tunnel of railway arches under Waterloo – was the home of Banksy's legendary Cans Festival in 2008, since when it has become a constantly changing legal canvas for street artists and taggers, and a celebrated part of London's urban culture. Aures London is the first opening in a regeneration by Lambeth Council of eight former railway arches, providing a curated collection of restaurants and bars, and joining established tenants the Vaults and House of Vans.
Aures London offers Sensorium and the neighbouring, semi-outdoors Link Tunnel as venues for exhibitions and installations, live events and corporate hire.
For further information please contact
Robyn Collins, business development & sales director
Aures London
Tel: 020 3612 3084
Email:
Site: aures-london.com

Site: aures-london.com
Instagram: @aureslondon
Twitter: @aureslondon