The best cycling holidays reach new (as well as much-loved) heights at Colconquerors
2019-01-03


January 03, 2019, Valmeinier, FRANCE. Press Dispensary.
Mountain cycling enthusiasts will be pleased to see 2019 start with Colconquerors' European road cycling holidays gathered under one roof for the first time at
Colconquerors.com
. The updated collection ranges from winter and early spring sun breaks under sunny skies to seven-day and long-weekend trips through some of the world's most exciting mountain ranges, backed every mile of the way by Colconquerors' professional and knowledgeable support team.
Destinations for 2019 include the French and Italian Alps, the Dolomites, Corsica, Provence and, between November and March, Gran Canaria. Holiday formats include Raid Weeks and Island Challenges (usually seven night point-to-point tours), Challenge Weekends (usually four nights) and Ultimate Cycling Trips – seven night trips to a region with a unique aspect of cycling heritage where guests can get to know the area intimately from a single base.
Hotels are chosen carefully to provide something "a little special". They stand apart from 'typical' cycling holiday accommodation, offering very high standards of comfort and cuisine, discovered through meticulous research and long-established relationships, which may be why returning Colconquerors guests – and many return year after year – describe them as "an extension of the team".
Colconquerors director Rob Hawkins said: "Over the last eight years, we've built our reputation based on superb, challenging and highly rewarding rides, great accommodation and a relaxed, professional atmosphere, helping our cyclists to 'be the best they can be' while having a lot of fun. Our aim is always that each guest should come and ride their bike, soak in stunning scenery and enjoy themselves – while we look after everything else."
The degree of challenge varies across the trip formats, from the mountainous terrain and 2,500- 3,500 meter daily climbs of the Ultimate Cycling Trips to the flexibility of winter breaks that allow for easier cycling and some recharging of batteries. But every trip is open to all, with guests on the more challenging routes happy to commit to some high quality training before arrival, to get the most from the experience.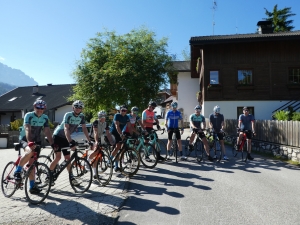 Colconquerors provides an extremely high standard of personal support. Each trip is limited to 12 riders, accompanied by at least two riding guides and a support vehicle, affording a ratio of at least one team member to every four riders. The always-experienced cycling guides include British Cycling Level 3 coaching and bike fitting expertise to ensure valuable, knowledgeable assistance with any aspect of riding. A full logistics pack is provided for each trip, including GPX files as well as a very detailed route planning document to supplement on-road support and guidance.
It is the standard of rides, accommodation and personal support that has driven Colconquerors' reputation over the eight years since it was founded, leading to more than 80 Facebook reviews that universally score five-out-of-five, and 100% "Excellent" reviews on Trustpilot.
Rob Hawkins concludes: "Our aim is for every cyclist to know it's all about their riding: they come and do exactly that and let us take care of everything else."
Holiday details, pricing and booking arrangements for all Colconquerors holidays can be found at https://www.colconquerors.com .
- ends -
Notes for editors
Now in its ninth year, Colconquerors was founded in the summer of 2010 to provide road cycling holidays. It is based in the French Alpine village of Valmeinier and, for the winter season, in Gran Canaria. Its four staff are renowned for building great relationships not only with guests but with all those who are so important in providing great experiences for its cycling guests. Guests come from many parts of the world and particularly from the UK, as well as Scandinavia and the US.
For further information please contact
Rob Hawkins, director
Colconquerors
Tel: + 33 6 85 12 18 29
Email:
Site: www.colconquerors.com

Facebook: @Colconquerors
Twitter: @Colconquerors

Instagram: colconquerors
YouTube: colconquerors

Strava: colconquerors-26819
Trustpilot: colconquerors.com