Artists Network Alpujarra Launches its 'Old and New' Show
2019-03-21
At the Old Town Hall, Órgiva from 6 April to 5 May 2019
March 21, 2019, Press Dispensary.
The evolving Alpujarran-based art collective, Artists' Network Alpujarra ( ANA -
http://www.artistsnetworkalpujarra.com
), is set to brighten up springtime in its beautiful area of southern Spain with its 'Old and New' / 'Viejos y Nuevos' show at the Old Town Hall, Órgiva, from 6 April to 5 May, 2019.
The launch event, featuring music and refreshments – as well as providing an early-bird opportunity to acquire unique artworks – will take place on Saturday 6 April from 7pm. The exhibition will subsequently be open Tuesdays, Wednesdays and Fridays 5pm to 8pm and Thursdays and Saturdays 11am to 2pm. During the town's Easter fair - 'La XXIV Feria Hecho en La Alpujarra', from 18-21 April - the opening hours will be 11am to 9pm.
Coordinated by local photographer, Jo Chipchase, and curated by artist, Gareth Lister, the exhibition will feature numerous types of artwork from traditional painting to photographs, 3D work, light installations, and more. The theme allows the artists to exhibit their favourite pieces that will appeal to local people and visitors alike. Órgiva will be celebrating its Semana Santa (Easter) events from 14 to 21 April, with hundreds of visitors expected to view the religious processions that occur in town.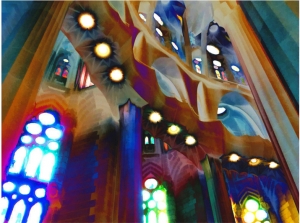 Curator Gareth Lister comments: "We've already had two successful exhibitions in the old town hall, Órgiva, and it's an ideal venue in which to display the diverse talents of our members. We expect to attract many people who are coming to Órgiva for Semana Santa, giving us a great opportunity to promote the culture of the area to a wide audience."

- ends -
Notes for editors
Artists Network Alpujarra (ANA) is a collective of visual artists based in La Alpujarra region of Andalucia, Spain. Founded in 2015, the group initially comprised a small number of artists who wanted to collaborate and raise cultural awareness of contemporary art in their local area. It has since expanded in terms of reputation and numbers, and currently has around 50 members. The group holds a weekly networking event in the market town of Orgiva, where members meet to discuss art, inspire each other and relax in an informal setting. The more experienced artists aim to encourage the newer members along their journey. Since its launch, ANA has staged approximately 10 exhibitions and also runs workshops and tuition groups. Chaired by Emma Plunkett, a Velez de Benaudalla-based artist, the group is run by a seven-strong committee.
For further information please contact
Jo Chipchase, Press officer
ANA
Tel: 0034 696056328
Email:
Site: artistsnetworkalpujarra.com