Sue Wilson of Bremain in Spain Comments on the Triggering of Article 50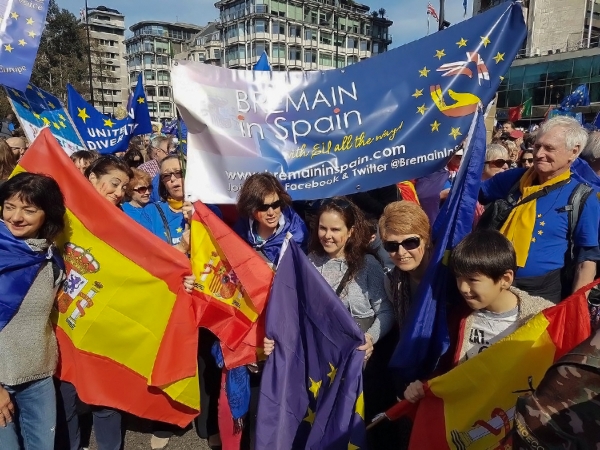 March 29, 2017, Valencia, Spain. Press Dispensary.

Sue Wilson, Chair of Bremain in Spain (http://www.bremaininspain.com (http://www.bremaininspain.com)), a group campaigning for the rights of 319,000 British citizens living in Spain, voices her opinion about the triggering of Article 50 today.

A speaker at the Unite for Europe March in London on Saturday 25 March, Sue addressed crowds about the rights of British citizens in Europe and especially the rights of UK pensioners living in the EU. Sue spoke alongside Tim Farron, Nick Clegg, David Lammy, Green co-leader Jonathan Bartley and Jolyon Maugham.

Sue says: "Today marks a historic event and one that I believe will be remembered in a poor light in future years. We hoped that common sense would prevail, at least with regards to the timing of Article 50, but Theresa May seems determined to plough on regardless of events in Europe, such as the forthcoming French and German elections. I'm sure many people are feeling the weight of the decision but we must remember that we have a long way to go. The fight to retain our rights within the EU is far from over."

She adds: "The Unite for Europe march last Saturday, attended by over 100,000 people, was an amazing experience that participants will remember for years to come. To be surrounded by so many determined, committed people, and to feel the strength of opinion against Brexit was truly inspiring. If May and the government think we have all given up, then she has seriously misjudged the 'will of the people'."
She concludes: "As I said in my speech at Parliament Square, I am a proud European and I would like to be proud to be British again."
- ends -
Notes for editors
Bremain in Spain is a group that is campaigning for the UK to remain in the European Union and to protect the rights of British migrants living and working in Spain. Run by a team of volunteers and chaired by Sue Wilson - a resident of the Valencian Community - the group advocates a tolerant and outward-looking society. It believes this is best achieved by the UK remaining a member of the EU and citizens retaining freedom of movement. Bremain in Spain is actively campaigning on a number of initiatives. During January 2017, Sue Wilson appeared in front of the Parliamentary Select Committee for Exiting the European Union at the Houses of Parliament, Westminster, to present evidence about the concerns of UK citizens living in Spain. Since then, the group has appeared frequently in the media. Bremain in Spain is affiliated to Britain for Europe.
For further information please contact
Sue Wilson, Chair
Bremain in Spain
Email:
Jo Chipchase
Press Officer
Email:
Tel: + 34 696 056 328

Alastair Stewart
Deputy Press Officer
Email:
Tel: + 44 7549 504281

Site: www.bremaininspain.com
Facebook: Bremain in Spain
Twitter: @BremainInSpain

Published for Bremain in Spain by Press Dispensary
pressdispensary.co.uk
ask@pressdispensary.co.uk
@pressdispensary
+ 44 1273 741410

<! -- end of main body -->