How to say 'I love you', fifty years from now (product launch)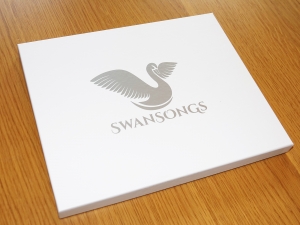 July 19, 2017, MILTON KEYNES, UK. Press Dispensary.

For anyone interested in offering a surprise legacy to future generations - perhaps a letter, a birthday card or a gift to appear decades away in the letterbox of children or grandchildren - an entrepreneur from Milton Keynes has dreamed up the perfect answer: Swansongs. The new Swansongs service, to be launched in September 2017, will archive and then deliver letters containing messages and memorabilia to any part of the world on any specified date over the next century.

Swansongs (http://swansongs.com (http://swansongs.com) ) is the inspiration of Jason Moore, who explained: "Imagine being able to send a birthday card today to your baby son or daughter, to be received on their 80th birthday. Or a letter, a DVD of videos or photos, perhaps a set of keys or the location of some hidden, treasured item, addressed from you, today, to your children or grandchildren at any time over the next hundred years."

Promoted under the strapline "Forever Unforgotten", the Swansong approach is straightforward. A Swansongs legacy pack is a gift box containing five bespoke envelopes and documentation. Return the filled envelopes to Swansongs for archiving and then, one month before their due date, Swansongs will research the recipient's up to date address and send out envelopes to arrive anywhere in the world on the requested day, which can be any time in the next hundred years.
Jason Moore continued: "It may be that you have something to confess, or get off your chest, that you don't want revealed today. Or my favourite is that Swansongs allows me to keep a few tricks up my sleeve: I can still spring surprises on my family when I'm no longer around. And I enjoy knowing that my kids will have a lot more to remember me by than just a gravestone they seldom visit."
Swansongs is presently in the crowdfunding stage of its launch, with a campaign on Indiegogo at
http://bit.ly/swansongs-igg (http://bit.ly/swansongs-igg) . The service will launch fully at swansongs.com in September, with legacy packs on sale at GBP £99 + shipping. Discounts of up to 50% are available to Indiegogo backers.
- ends -
Notes for editors
Swansongs is being launched by Jason Moore (http://bit.ly/jmoore-igg ), who already has a highly successful retailing business in Milton Keynes, UK, that includes extensive mail order fulfilment. Swansongs is presently in its crowdfunding stage, with the full product launch coming in September 2017. Offers and discounts may be available to publishers, to support competitions and promotions.
For further information and interviews, please contact:
Jason Moore, Founder
Swansongs
Tel: 01908 639553
Email:

Site: swansongs.com
Indiegogo: http://bit.ly/swansongs-igg
Facebook: foreverswansongs
Twitter: @FiveSwansongs

Published for Swansongs by Press Dispensary
pressdispensary.co.uk
ask@pressdispensary.co.uk
@pressdispensary
+ 44 1273 741410

<! -- end of main body -->