Deck the Halls with… a BikeParka Bicycle Cover
The perfect Christmas gift, costing under £40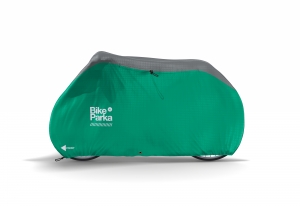 November 07, 2017, London. Press Dispensary.

The cyclist in your life will appreciate the thoughtful Christmas gift of a BikeParka ( http://bikeparka.com (http://bikeparka.com) ), a stylish and high-quality bicycle cover that keeps bikes protected from the winter weather and the elements we experience during the rest of the year. The BikeParka is ideal for anyone who owns a bicycle and wants to keep it safely under cover. It's an affordable gift, costing under £40 from BikeParka.com and other reputable retailers.

If you're buying for someone whose bicycle is stored in the garden, patio or balcony – i.e. they lack indoor storage space - the BikeParka STASH is the perfect gift choice. It protects the bike while making it look neat and tidy, wherever it's kept.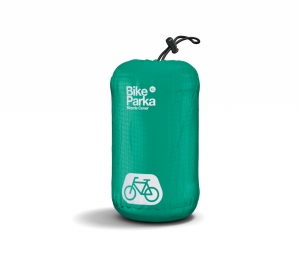 For those who frequently leave their bicycles in public places, the BikeParka URBAN cover is a top choice. Featuring Velcro lock-through panels that accommodate the bicycle lock, the URBAN cover attaches securely to the frame, meaning it cannot be pulled off and stolen by an opportunist thief.
For those needing to cover a large frame, the perfect choice is BikeParka XL: a super-sized cover that fits mountain bikes, bicycles with wide handlebars and those fitted with child seats. Big is beautiful.
If you're buying for a child, choose the BikeParka SMALL. This cover is specially designed to provide a snug fit for small frames, including BMX and children's bikes.
'Stash' costs £29.95, measures 220cm x 140cm and fits handlebars up to 65cm.
'Urban' costs £39.95, measures 220cm x 140cm and fits handlebars up to 65cm.
'Small' costs £24.95 measures 160cm x 120cm and fits handlebars up to 55cm.
'XL' costs £34.95, measures 225cm x 140cm and fits handlebars up to 100cm.
Each BikeParka comes with its handy Stuff Sac to tidy it away. The cyclist simply grabs a corner of the BikeParka and literally stuffs it into the bag where it will be safe until its next outing.
BikeParka is available on 3-day online shipping from BikeParka.com and bicycle stores nationwide. The last order date for guaranteed Christmas delivery is 19 December for UK deliveries and 13-16 December for Europe (except Greece, which is 9th).

- ends -
Notes for editors
BikeParka is a brand owned by Fatsumo Ltd – a small, UK-based business set up to design and market cycle-related goods. BikeParka is the company's first product and was designed in collaboration with an independent camping manufacturer which has specialised in tents and outdoor equipment for over 20 years.
For further information please contact
Greg Bourne, BikeParka
Tel: 020 3286 0495
Email:
Site: www.bikeparka.com
Published for BikeParka by Press Dispensary
pressdispensary.co.uk
ask@pressdispensary.co.uk
@pressdispensary
+ 44 1273 741410