Time2 launch Clan - a new generation of easy to use, affordable smart home and security devices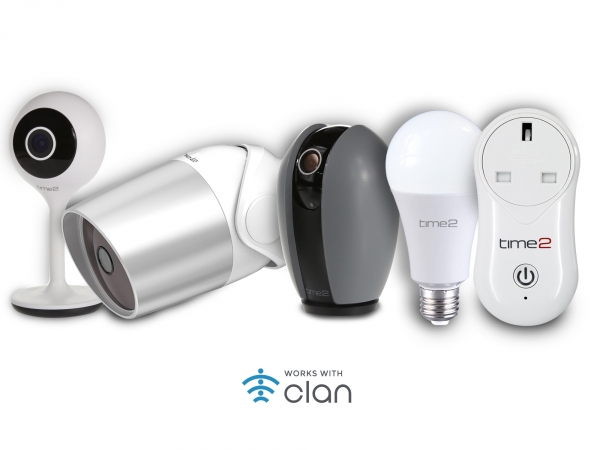 November 08, 2018, Blackburn, Lancashire, UK. Press Dispensary.

UK tech company Time2 today launches Clan - its 'next generation' family of affordable and easy to use smart home devices. Initially, they will include security cameras, light bulbs and a mains socket that can all be linked up and managed by remote control over the internet, from anywhere, using a single app on a phone or tablet – or with spoken commands through Amazon Alexa or Google Home.

The launch will be celebrated with a 25% discount for customers purchasing on the day, and with giveaways and prizes throughout the day on Facebook, Twitter and the Time2 website.
Time2 CEO Kam Kothia said: "Our launch of Clan enables us to offer the broad sweep of UK households a newer, easier way to protect their homes and enrich their lifestyles, simply and affordably, with truly excellent products. The intelligent 21st century home doesn't have to be complicated or expensive."
The first Clan products focus on home protection and monitoring: small, lightweight but technically advanced remote control cameras, priced from just £39.99 with no ongoing subscriptions, plus remote control dimmable LED light bulbs and a remote control mains socket.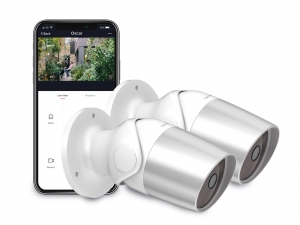 As an example of the smart home in action, a Clan camera means that someone on holiday, or away for whatever reason, can monitor the inside or outside of their home, in real time from anywhere in the world, enjoying live, high definition video images and sound straight to their smartphone or tablet. The camera has automatic night vision when it gets dark and the ability to record and playback up to three weeks of footage. Images sent over the internet are encrypted for privacy.
The user can be alerted on their smartphone if there's any movement or sound and then play back the footage to see what caused the alert. And because Clan devices work together, Clan could also use the alert to automatically turn on lights or a radio in the home, making an empty place seem occupied. Indeed, lights and other appliances can easily be set to turn on and off, or dimmer or brighter, at different times, or under varying conditions, to create a realistic lived-in effect – all managed from a single app.
In early 2019 Time2 will extend the range, adding many more home security devices as well as remote control light switches and a remote control central heating thermostat, with more to follow. Everything will work together and be controllable from anywhere, at home or far away. Asking Alexa to dim the lights, check the heating or switch on the electric blanket will be a breeze with Alexa and Clan working together.
Easy installation of devices is a key feature for Clan. Because they communicate wirelessly, using the home wifi, they can be placed almost anywhere without disruption or DIY, and there's little or no manual configuration needed to get them working online. However, for those who want it, Clan also offers a sophisticated array of scheduling and home automation tools.
Kam Kothia continued: "Our aim is to offer the largest range of life enhancing, smart home products, easy to set up and use, working seamlessly with each other, compatible with Alexa and Google Home and backed by Time2's unrivalled UK-based customer support."
The Clan app, Clan at Home, is available now to download for free from the Apple App Store and Google Play Store.
- ends -
Notes for editors
There are no monthly subscriptions for Clan, nor for storing recordings. All that's needed is standard home wifi and an internet connection. Recordings are stored on MicroSD cards, bought separately.
Kam Kothia is available for interview and Time2 cameras may be requested for authentic press product reviews.
About Time2
Time2 was founded in Blackburn, Lancashire, in 2011 by eBusiness UK Limited as a consumer electronics company and now specialises in smart, connected devices for home security and home enhancement.
Time2's mission is to provide universal access to technology that has the power to enhance and enrich lives by helping to create happy, secure, protected homes. Time2 is known for excellent customer experience, backed by its dedicated, UK-based customer support team.
About Clan
Clan is Time2's growing ecosystem of connected smart home devices based on Tuya Smart technology, following the announcement of a partnership between Time2 and Tuya Smart. Worldwide, Tuya Smart serves hundreds of millions of consumers in more than 200 countries, and the partnership gives Time2 a best-in-class, proven platform to underpin Clan.
A more comprehensive backgrounder can be found at http://bit.ly/Time2bg
For further information please contact
Yasir Sufi, Head of marketing
Time2
Tel: 01254 272688
Email:

Site: www.time2technology.com
Twitter: @time2HQ
Facebook: @time2HQ
YouTube: youtube.com/time2HQ

Clan at Home on Apple App Store (iOS):
http://bit.ly/Clan4iOS
Clan at Home on Google Play Store (Android):
http://bit.ly/Clan4Android
Published for Time2 by Press Dispensary
pressdispensary.co.uk
ask@pressdispensary.co.uk
@pressdispensary
+ 44 1273 741410