Traditional local taxi operators take on ride hailing upstarts through CabNET Taxi global network
Bookings, cashless payments, journey tracking and reviews in a single app makes the global network of established, local taxi firms available to everyone … and gives local operators the advantage over upstart startups.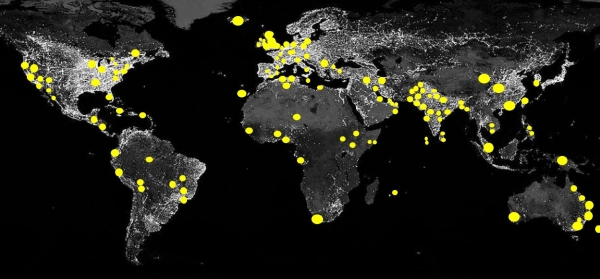 December 04, 2018, LONDON, UK. Press Dispensary.

CabNET, the world's largest private network of licensed taxi companies, announces it is now accepting cashless payments via smartphone for taxi bookings anywhere on its growing roster of more than 600 towns and cities in 70+ countries worldwide. Customers can pay using their smartphone, whether they are taking a short, local ride or booking a taxi at the other end of the country or on the other side of the globe.

The service works with any taxi that is a member of CabNET, which represents almost 11,000 carriers from London to Lusaka, Iceland to Auckland. Carriers range from major licensed taxi firms, with hundreds of cars and drivers, to sole licenced drivers.
To make a payment, customers simply use the CabNET app, which can be used in any country and is free to download from the App Store for iPhone and Google Play for Android.
The CabNET app will search for licensed taxi providers in a specified geographic area and manage the booking process, including payment. It can also be used when a cab has been hailed or booked without using the app – customers can pay by scanning the driver's barcode or using their mobile phone number. The CabNET app also includes 'taxisafe' route tracking, for added personal security during a journey, and enables customers to review their journey and provider.
What sets CabNET apart from other international providers is that its members are all locally licensed operators who work for their local taxi companies or themselves, not for CabNET. These operators set their own fares, according to local regulations. CabNet boosts their bookings by linking them to the network ..
CabNET CEO Neil Hallett said: "CabNET is unique. There is no other service where a single app lets you book pay for, track and review licensed taxi rides – no matter where you are or plan to be – but offers the know-how and experience of long-established, properly licensed local taxi providers.
"It has all the benefits of Uber and the like but can work in so many places where those companies aren't licensed to operate and, with the introduction of cardless payment, it enhances the established taxi experience by offering a single app that works anywhere, with no need for cash."
To download the app and get started free of charge, customers should visit www.cabnettaxi.com .
Taxi operators and drivers that wish to join CabNET can register at https://www.cabnettaxi.com/driverregistration (https://www.cabnettaxi.com/driverregistration) and pay a nominal setup fee to start accepting bookings and payments.
- ends -
Notes for editors
Established and based in London, UK, CabNET has been quietly building its global network of licensed taxi companies since 2016 and is the largest private network of licensed taxi companies on the planet. It has been trialling its newly launched cashless payments service since July 2018.
The CabNET app searches for local licensed taxi operators within a 20km radius of the pickup point and can manage booking and accept e-payments, whether at the time of booking and or – during the journey – from customers who have booked or hailed directly. The app also includes 'taxisafe' route tracking, for added personal security during a journey, and enables customers to review their journey and provider. It even manages the process in countries where car-share taxis are common. Download and use of the app are free and taxi fares are set locally.
For licensed taxi companies and individual licensed drivers, CabNET registration is simple and requires only a small setup fee that varies from country to country. CabNET membership is not exclusive, CabNET bookings are not compulsory and members are welcome to continue using their established processes for bookings, street hailings and fare payments. CabNET makes its principal income through a small (1%-3%) charge on CabNET payments.
For further information please contact
Neil Hallett, director
CabNet Taxi Network
Tel: + 44 7534 925733
Email:
Site: www.cabnettaxi.com

London, UK
Published for CabNet Taxi Network by Press Dispensary
pressdispensary.co.uk
ask@pressdispensary.co.uk
@pressdispensary
+ 44 1273 741410