Vérité Announced as Official Red Wine Supplier to Guards Polo Club


November 21, 2018, LONDON, ENGLAND. Press Dispensary.

Guards Polo Club is delighted to announce an innovative new partnership with Vérité, Jackson Family Wines' esteemed winery. The creator of these prestigious, Bordeaux-inspired wines has been named the official red wine supplier at Guards Polo Club and the wine will be served next season, including in its distinguished Royal Box, overlooking The Queen's Ground.

Vérité, located in Sonoma County, California, produces three reputable Bordeaux-inspired wines that represent a meticulously formed union of grape varieties, climate, soil expression and winemaking technique. Crafted by Vigneron Pierre Seillan, the wines have been highly acclaimed, receiving more than 15 100-Point Scores from Robert Parker Wine Advocate. Impeccably balanced and sumptuously textured in their youth, they have the weight and foundation to age for many years and are deemed to be outstanding investor wines.

"I am delighted that Vérité will be the official red wine at the Guards Polo Club" said Barbara Banke, Chairman & Proprietor of Jackson Family Wines. "Vérité is one of the jewels of my family's portfolio, and we are thrilled to be offering these wines at this historic and prestigious club for its members and distinguished guests."

Neil Hobday, Chief Executive of Guards Polo Club, is equally delighted about this exciting new partnership with Vérité . "Guards Polo Club prides itself on creating the benchmark of world-class polo and elegant hospitality that others strive to follow. An integrated partnership with a prestigious wine brand such as Vérité is perfect as it will enable us to deliver unrivalled opportunities for our esteemed patrons, players and members. Barbara Banke and her team at Jackson Family Wines represent the same core values as Guards Polo Club. We look forward to working closely with them on introducing Vérité to our own distinguished audience."

An exciting programme of private dinners and tastings will be arranged throughout the 2019 season, hosted by Jackson Family Wines' Master Sommelier, Dimitri Mesnard. All catering at Guards Polo Club is handled by Royal Warrant holders, Mosimann's. Vérité will be served in the Royal Box and Clubhouse, and available in the Club's official marquees throughout the polo season, including its most prestigious tournaments, the Cartier Queen's Cup and the Out-Sourcing Inc Royal Windsor Cup.

- ends -

Notes for editors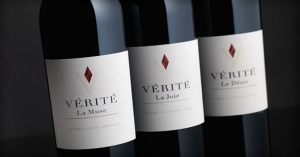 Vérité
The wines of Vérité, French for "truth," are the result of a combination of old world experience and new world fruit. Each wine is a distinct blend of unique components harvested from small vineyard blocks, culminating in a meticulously formed union of grape varieties, climate, soil, expression and winemaking technique. Pierre Seillan refers to this methodology as droit du sol, "right of the soil." The vines are grown on no fewer than 50 different soil types, across four different appellations: Alexander Valley, Bennett Valley, Chalk Hill and Knights Valley. Each Vérité wine represents a blend of micro-crus from these mountain vineyards.
Pierre uses the term micro-cru to define his approach, which is indicative of each particular plot within an already outstanding vineyard. Vérité wines are blends of these distinctive micro-crus and crafted on the Bordelais model. La Muse should be considered a "Right Bank" or Pomerol style wine, made from a Merlot dominated blend with Cabernet Sauvignon. The wine expresses elegance and finesse. La Joie can be seen as a "Left Bank" or Pauillac wine, which demonstrates richness and power from predominantly Cabernet Sauvignon. Le Desir is chiefly made from Cabernet Franc and illustrates the opulence and grace reminiscent of the best wines from Saint-Emilion.
Vérité wines spend 12-14 months in new French oak but the wood is noticeable as a softening influence, not a distinct flavour element. "Oak in wine should be like a ghost. You sense its presence, but you don't actually perceive it," explains Pierre Seillan.
The wines have a signature of impeccable balance and texture; moreover they are drinkable when first released, even though they can also age superbly for decades.
Learn more at www.veritewines.com
Barbara Banke & Jackson Family Wines
Jackson Family Wines (JFW) is a family-owned and run company that crafts award-winning wines of distinct character and quality. With a focus on sustainable viticulture practices, responsible vineyard and natural resource management and unparalleled winemaking, the family's collection comprises more than 40 renowned wineries and brands, with substantial vineyard holdings throughout the premier wine-growing regions of California and Oregon. JFW also crafts fine wines from Australia, Chile, France, Italy and South Africa. Founded in 1982 by wine pioneer, entrepreneur and philanthropist Jess Jackson, Jackson Family Wines and its wineries are led by Chairman Barbara Banke and the Jackson family.
Banke takes a hands-on role in the development and promotion of the Jackson family wine estates as well as new projects and vineyard acquisitions. Banke also has a love of equestrian racing. The family's stable, Stonestreet Farms in Kentucky, has achieved numerous successes in the Thoroughbred racing world.
Learn more at www.jacksonfamilywines.com
Guards Polo Club
Founded in 1955 by HRH The Prince Philip Duke of Edinburgh, Guards Polo Club is probably the world's most famous polo club. Situated in the heart of Windsor Great Park, it hosts many of the sport's top tournaments, including the Cartier Queen's Cup competition, in which the world's leading players, and their ponies compete in a bid to win the silver cup which was personally presented to the Club by HM The Queen in 1960. The Duke of Edinburgh remains the Club's President to this day and his son, HRH The Prince of Wales, and his grandsons, HRH The Duke of Cambridge and HRH The Duke of Sussex, have all enjoyed playing numerous matches on the Club's superb grounds. Guards Polo Club season runs from mid-April to mid-September and hosts more than 500 matches in that time.
Learn more at www.guardspoloclub.com
For further information please contact
Luxx PR
Jackson Family Wines' UK PR agency
Tel: 00 44 (0) 207736 6662
Email:

Published for Jackson Family Wines' UK PR agency by Press Dispensary
pressdispensary.co.uk
ask@pressdispensary.co.uk
@pressdispensary
+ 44 1273 741410