1,800-strong procession revels on the streets of London on New Year's Day
An imprint of India's spiritual legacy in Hertfordshire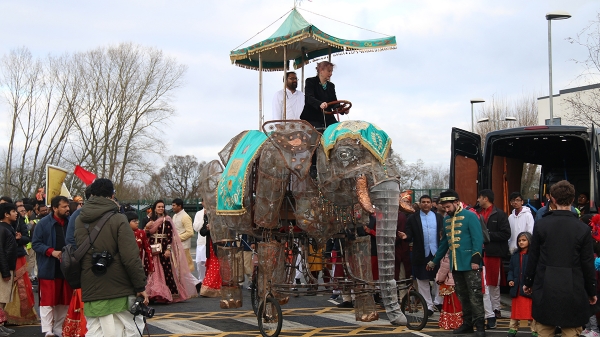 January 03, 2019, BUSHEY, HERTFORDSHIRE, UK. Press Dispensary.

The new year heralds a new beginning for a historic site in Hertfordshire, as the former Falconer Hall in Bushey reopens as the Shrimad Rajchandra Mission Dharampur (SRMD) London Spiritual Centre.

The refurbished centre opens its doors to an array of spiritual and community service activities, establishing ancient Indian traditions in this quiet Hertfordshire town. From spiritual discourses, yoga, meditation, and inter-faith sessions, the centre will also serve as a place of worship, spiritual practice, and charitable activities for its members, breathing new life into the historic site.

To mark the opening of the centre, the first day of 2019 was greeted with a spectacular celebration in the form of a traditional Indian procession. Pujya Gurudevshri Rakeshbhai, spiritual visionary and guiding light of SRMD, arrived on a majestic 16 ft tall mechanical elephant, heralding the start of the celebrations.

In her opening speech The Worshipful Mayor of Hertsmere, Cllr Brenda Batten, welcomed SRMD UK to Bushey, remarking on the contribution of the Jain community to the British way of life. This sentiment was echoed by Lord Dolar Popat who was delighted to join the celebrations despite having just arrived from India. Lord Jitesh Gadhia, and Sri Ramana Devi of Shiva Trust also graced the occasion.

Lord Popat also referred to the universal values of non-violence, peace and tolerance that underpin the Jain religion emphasising their importance in today's world. These values also greatly influenced India's iconic leader, Mahatma Gandhi, through his spiritual mentor Shrimad Rajchandra. This great Jain saint and philosopher is the inspiration and guiding light of SRMD and his life and luminary works continue to provide spiritual growth to thousands of seekers around the world.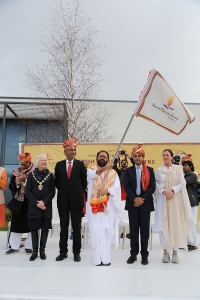 The Procession commenced with a ceremonial flag-off, as classic British carriages and cars carrying deities, devotees and Pujya Gurudevshri Rakeshbhai flowed out of Bushey Academy School, followed by over 1,800 participants. Celebrants danced in joyous rapture to the sound of traditional drums and devotional chants. Local residents and spectators could not help but be intoxicated by the joyous energy that engulfed the once-quiet streets of Bushey, even offering rose petals to deities in the passing carriages. They were all joining in the celebrations, dancing and chanting with attendees from as far afield as Australia, Kenya, Dubai, India and Ireland.
Live TV coverage of the event allowed viewers from remote villages in India to those in Hawaii to be a part of the joyous event.
The procession culminated in a powerful religious ceremony that stirred the heart and soul of each person present as the SRMD London Spiritual Centre was sanctified as a Jain place of worship.
This grand procession was the pinnacle of a four-day event in London which included a special residential retreat where participants from all over the world enjoyed five illuminating discourses by Pujya Gurudevshri, bringing in the new year with the sounds of ancient Japanese drumming, mystical Sufi poetry readings and cultural performances by participants.
Over the last decade, SRMD UK has demonstrated a steadfast commitment to serve and bring joy to all living beings through the global ten-fold programme, Shrimad Rajchandra Love and Care (SRLC). SRLC has led and executed diverse local community projects including tree plantation drives, organ and blood donation drives, blanket distribution to the homeless, food and clothing donations, elderly care and prisoner welfare, and emergency relief aid. Fund-raising activities have raised thousands of pounds for many worthy causes, including Sense International and St Francis Peace Hospice in Hemel Hempstead.
This year to highlight SRMD UK's commitment to the pledge of reducing plastic use as an environmental initiative of the SRMD Love and Care programme, all cups, plates, tissues and cutlery used in the serving of meals at the London Spiritual Centre from 1st January 2019 will be made from environmentally friendly materials.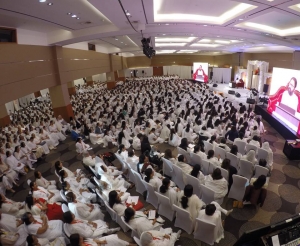 The London Spiritual Centre will facilitate daily practice of prayer and devotional hymns, spiritual discourses, group meetings for members of varied age groups, value-based education for children and young adults, meditation retreats and self-development workshops, community service projects under SRLC, celebrating Jain festivals and other auspicious occasions, hosting multi-faith events, open days to introduce the principles of Jainism, and classes on yoga, wellness, and healthy cooking amongst others.
The London Spiritual Centre will stand testament to India's spiritual wealth and share its benefit with all members of the community in London, providing a beacon of love and peace for all who enter this reinvigorated community space.
- ends -
Notes for editors
About Shrimad Rajchandraji
Shrimad Rajchandraji (1867-1901) was a great Indian saint, poet-philosopher, and spiritual luminary. Regarded as the spiritual guide and close friend of Mahatma Gandhi, Shrimadji had a tremendous and formative influence on the Father of the Nation.
"Such was the man who captivated my heart in religious matters as no other man has till now."
Mahatma Gandhi on Shrimad Rajchandraji – Modern Review, June 1930
Shrimad Rajchandraji is the embodiment of an intense and incessant pursuit of spirituality. Born on Kartik Purnima on 9th November, 1867, in Vavania, Gujarat, Shrimadji was a perfect blend of pure knowledge, selfless devotion, and complete detachment. Shrimadji attained self-realisation at the age of 23. He spent months in seclusion, absorbed in the ecstasy of the Self. His compassion for the world flowed in the form of 'Shri Atmasiddhi Shastra,' a masterpiece in philosophical literature. On 9th April 1901, at the age of 33, Shrimadji left His mortal body in Rajkot. His preachings have been published in an invaluable volume 'Shrimad Rajchandra,' which continues to quench the thirst of true seekers. Through ashrams, temples, and institutions dedicated to Shrimadji around the world, thousands of devotees are benefiting from His teachings and progressing on the spiritual path.
About Shrimad Rajchandra Mission Dharampur
Shrimad Rajchandra Mission Dharampur is a global movement that endeavours to enhance the spiritual growth of seekers and benefit society. With its international Headquarters at Shrimad Rajchandra Ashram, Dharampur, India, the Mission has 108 Satsang centres, 44 Youth Groups and 243 Divinetouch Centres - value-education and self-development programmes for children - spread across the globe in North America, Europe, Africa, Asia and Australia. The Shrimad Rajchandra Love and Care programme includes: Health Care, Educational Care, Child Care, Woman Care, Tribal Care, Community Care, Humanitarian Care, Animal Care, Environmental Care and Emergency Relief Care. Shrimad Rajchandra Mission Dharampur is playing a key role in universal upliftment by actualising its Mission Statement - Realise one's True Self and serve others selflessly. www.shrimadrajchandramission.org
About Jainism
The Jain faith originated in India many thousands of years ago, with its 24th Tirthankara (Soul of great virtue), Lord Mahavira, born circa 599 BC in India. It is a vast and sophisticated philosophy of respect for all living beings, with its own scriptures, art, worship rituals and festivals and has over 7 million followers all over the world. It has around 30,000 followers in Britain.
About SRMD UK
SRMD UK's prominent regional initiatives include the maiden overseas trip of 'Yugpurush – The Mahatma's Mahatma' – a play on the special bond between Shrimad Rajchandraji and Mahatma Gandhi. These shows were watched by thousands across the UK in 2017. Net proceeds from the play supported the construction of Shrimad Rajchandra Hospital – a new 250-bed multi-speciality charity hospital in South Gujarat, India.
SRMD UK's inter-faith cohesion events include the hugely successful 'Love of Faith Walk' that brought together 400 people from different faiths walking the streets of London in 2012. The project raised £65,000 for Sense International in Barnet in support of deaf-blind children worldwide and SRLC. 'Amazing Grace Multi-Faith Concert' in 2016 brought together nine of the world's great faiths in a spirit of harmony with an audience of over 600 at the Union Chapel in London. 'Let Us Make a Change Peace by Peace' was organised at Manchester's iconic Albert Square in 2016, as many from diverse faiths, races, ages came forward to express cooperation.
One of the most peaceful religions of the world, Jainism is an ancient Indian religion based on universal and inclusive values. With the mission goal to 'Realise one's True Self and serve others selflessly', SRMD UK is an active member of One Jain Federation of Jain Organisations in the UK, the Bushey Faith Forum, and Hertsmere Forum of Faith. It has also participated in the opening of Watford Peace Garden by Watford Interfaith Association.
The Falconer Hall was acquired from St. Albans Diocese of the Church of England in Bushey in 2017 and has undergone extensive refurbishment to transform into a centre of excellence for the community. It was inaugurated on 1st January 2019.
For further information please contact
Manthan Taswala, Shrimad Rajchandra Mission Dharampur
Tel: 07920 105093
Email:
Published for Shrimad Rajchandra Mission Dharampur by Press Dispensary
pressdispensary.co.uk
ask@pressdispensary.co.uk
@pressdispensary
+ 44 1273 741410