Press releases
A private fraud investigation team warns that phone calls claiming to be from high street banks, which advise their customers to move large sums of money between accounts, may not be al they seems and...
More ...
Private investigation calls for the divorce of married couples and the break-up of co-habiting couples to be brought up to date, particularly when it comes to property rights for co-habiting couples.
More ...
Victims of online scams who feel they have nowhere to go to resolve problems have been offered a lifeline.
More ...
Adultery via an affairs website is seemingly more popular in the UK than many other places but there is a serious side to casual cheating.
More ...
Private Investigators UK gives timely advice for individuals and small businesses about online fraud, theft and vandalism...
More ...
A private investigator is advising victims of abuse in care homes, and people who know of such abuse, to come forward straight away rather than suffering.
More ...
A leading UK investigation agency warns employers to seek professional help when seeking to build a case for dismissal due to gross misconduct.
More ...
A leading Manchester-based private investigator warns of the dangers of fraud and other crimes that come as a result of lax security for users' personal information on social media platforms.
More ...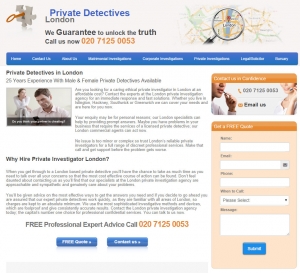 A steep rise in car insurance fraud, including 'cash for crash' fraud, means blameless victim motorists are turning to private investigators to establish their innocence.
More ...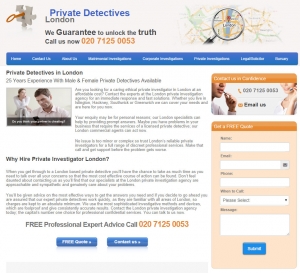 Private Detectives London: a new name on the block but representing a team of private investigators with 25 years in the industry, a vast amount of experience and a network of industry contacts across...
More ...






About Private Detectives London
Private detectives